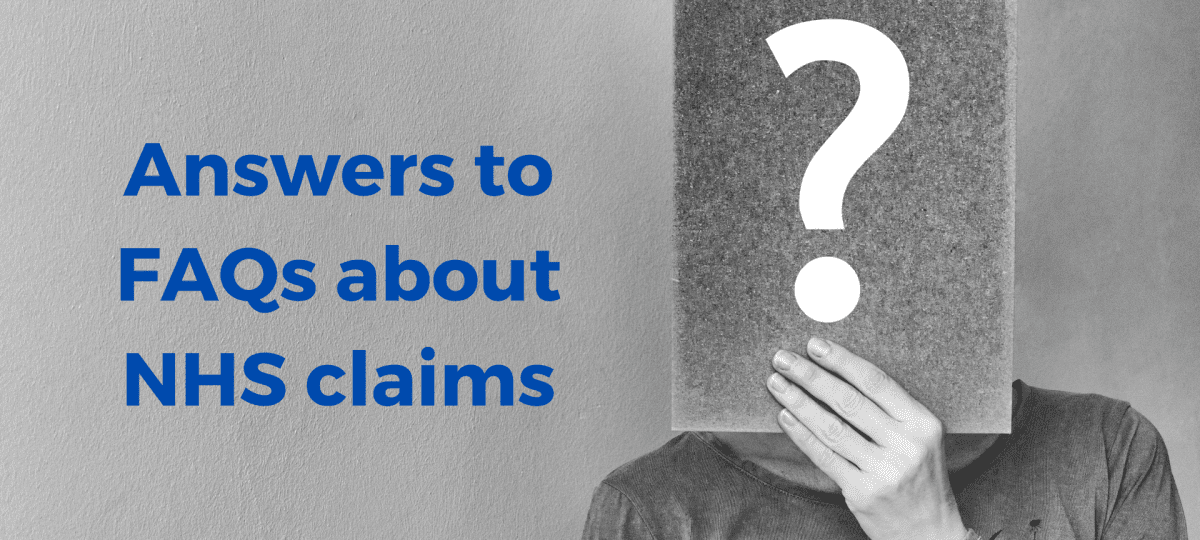 Medical Negligence - Sue the NHS FAQs
We specialise in helping victims of medical negligence claim the compensation they deserve. Because when medical professionals at the NHS let you down, you deserve a chance to rectify the problem. We can help you sue the NHS.
Start your claim
Find out how much your claim could be worth now…
Medical Negligence: Sue the NHS FAQs
We are happy to give you a free, no-obligation conversation to answer any questions you may have about your entitlement to claim or the process for doing so. Here are the answers to some of the Sue the NHS FAQs. If the answer to your question isn't here, just give us a call or fill in our online form and one of our experts can help.
What is the process to sue the NHS?
NHS negligence claims, in truth, are difficult claims to prove in nature. As a result, you will need expert advice to work out whether you have a case. So, if you are thinking about claiming compensation, the first step is to speak to The Medical Negligence Experts.
One of our agents will chat to you about the details of your potential claim. If they feel your claim has a strong chance of success, they'll act accordingly on a No Win, No Fee basis. First, by connecting you with a solicitor who specialises in NHS medical negligence cases.
We can also assist anyone interested in pursuing the NHS complaints procedure.
How do you prove liability in claims against the NHS?
The duty will be on you to prove that the NHS was negligent and that its actions cause you harm. Most significant evidence comes from medical experts with specialist knowledge in the relevant field of medicine or nursing care. Sometimes, it is possible for one expert to deal with the various aspects of your injury.
Usually, two or more reports are necessary for different experts. The reports can then establish both negligence and causation. Once these investigations occur, your solicitor will be able to advise you. Moreover, they'll have much more certainty whether your claim is likely to be successful.
How much do NHS negligence claims pay out?
In short, the amount of compensation you receive for the pain and suffering depends on a variety of factors. These include:
The type and location of the injury as a result of the negligence;
The seriousness of the injury, for example, whether it will heal on its own or whether surgery is required;
The impact the injury has on your ability to work and your lifestyle;
Your age;
How long it will take you to recover;
Likely complications arising from your injury in the future.
The medical expert in your case will describe the nature and extent of your injuries for your medical negligence claim. Additionally, they'll reveal the prognosis for your recovery in a condition and prognosis report. This report serves as a starting point for settlement negotiations.
Will further medical treatment help when you sue the NHS?
On occasion, the medical expert may not be able to give a final prognosis and may recommend further treatment first. It's better to wait until the treatment concludes before settling your compensation claim. That's because NHS negligence claims settle on a "full and final" basis.
In other words, it's not possible to ask for more money if your injury becomes worse. Therefore, you should always enter negotiations ready with all the medical facts.
In addition to General Damages for pain and suffering, you may claim for the out-of-pocket expenses associated with the injury. This includes medical costs, travel costs, lost wages and overtime.
You will need to prove your financial losses, too, in pursuing your claim. Therefore, it's important that you keep receipts for any items you purchase, taxi fares, wage slips and tax returns. Thankfully, with our No Win No Fee services, we won't add to your burden any legal costs.
With our Conditional Fee Agreements, you pay a success fee if you win (and only if you win, too). It's worth noting that a success fee is a percentage of the compensation you win in a claim. In addition, you will agree on this with your solicitor at the beginning of the claims process.
What if I have been injured by an NHS "Never Event?"
Around six patients a week suffer a Never Events at an NHS facility. Never Events, in short, should not happen if NHS staff follow specific guidance or safety recommendations. The Never Event list receives regular updates from the NHS. Accordingly, it currently includes areas such as:
Wrong-site surgery where surgery occurs on the wrong body part or even the wrong patient;
Retaining foreign bodies in the patient post-operation;
Failing to monitor oxygen levels;
Administering chemotherapy drugs via the wrong route;
Death from postpartum haemorrhage after an elective caesarean section.
Since the NHS would find it very difficult to defend a Never Event, these claims bode well for your compensation. That's because it's highly likely the NHS Trust will concede liability.
However, even if they admit breach of duty, you must still prove causation in order to claim compensation. This, in effect, is where the specialist knowledge of an expert medical negligence solicitor can assist.
What is the time limit to sue the NHS?
You have three years to sue the NHS for medical negligence. When the clock starts, however, is the thornier issue.
It can start for three years after the incident occurs. Alternatively, it may not be immediately clear that the incident is the cause. Therefore, when it becomes clear, it will be three years from that date instead.
Will I have to go to court?
It's highly unlikely that you'll need to go to court when you sue the NHS. The vast majority of a successful claim against the NHS (98%) find a resolution out of court. Of the remaining 2%, some close because there aren't legitimate grounds to claim. That, as a result, leaves you with a rather slender 1% likelihood of going to court.
We appreciate the prospect of going to court can be stressful. Your solicitor would work hard to negotiate an out of court settlement on your behalf. Furthermore, we'll only advise litigation if the other party:
refuses to accept responsibility, or;
if you can't reach agreement on a fair and reasonable compensation payment.
If your claim goes to court, take confidence that your legal team is with you all the way.
What about NHS Resolution?
Dissatisfied patients not wishing to pursue a compensation claim can also approach the NHS Litigation Authority (NHSLA). This independent mediation service, launched in 2014, can help patients and clinicians resolve disputes fairly and help the NHS learn from their mistakes.
Using the NHSLA does not prevent you from making a legal claim if you are unhappy with the outcome.
How is medical negligence different from a personal injury?
In short, these are two completely separate areas of law in the civil capacity. For starters, medical negligence involves medical professionals as a cause for the injury of the victim. Personal injury is more commonly associated with scenarios outside the medical profession's purview. For example, work-related accidents or road traffic accidents.
Our opposite number, The Compensation Experts, can help you address matters of personal injury.
How Can We Help?
For a compensation claim against the NHS to succeed, you must demonstrate you suffer an injury. Moreover, the injury was the direct result of negligent care from the NHS. Proving negligence and damage is a long and complex process: one where having good solicitors on your team will help.
NHS clinical negligence claims can be stressful and time-consuming, so it's important to get support from the right legal firm. Here at The Medical Negligence Experts, our panel of solicitors only deals with claims against the medical profession. You can trust to give you the legal advice and support you need.
Contact The Medical Negligence Experts today and let us assist you in winning your compensation claim against the NHS.
*Please know that certain conditions apply.