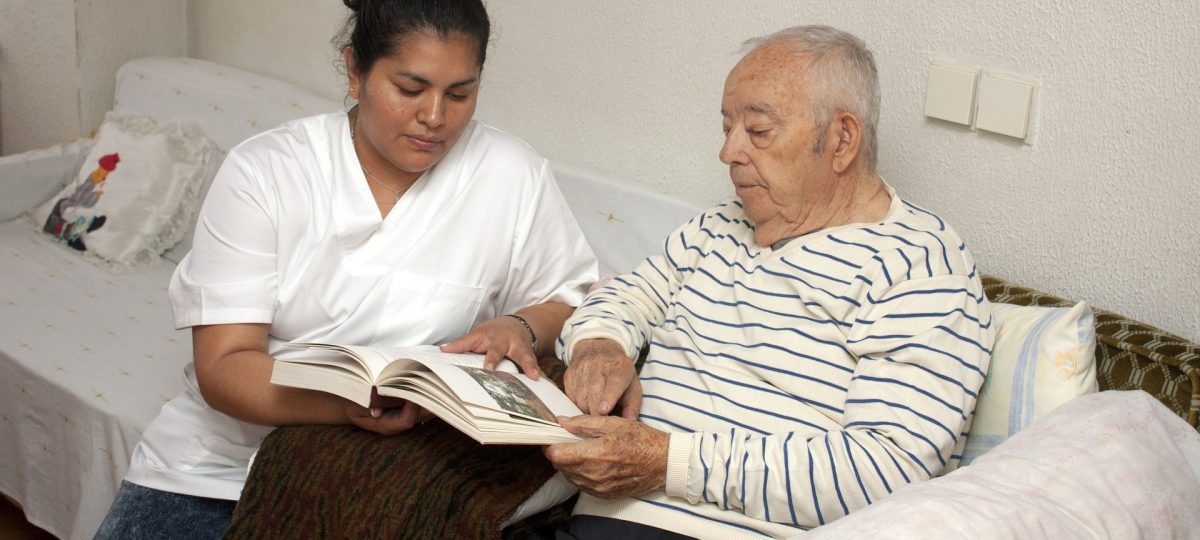 Care Home Negligence Claims Experts
We specialise in helping victims of care home negligence claims get the compensation they deserve.
Start your claim
Find out how much your claim could be worth now…
Care Home Negligence Claims Solicitors
Care home negligence claims stem from a difficult situation made even worse by care specialists you expect more from.
Because the decision of whether or not to move a loved one into a care home is a tough one. In many instances, it will be the last resort. It will also be upsetting for a family who just wants to care for their loved one at home in familiar surroundings.
The decision is so personal and painful. And it can be devastating to discover the standard of care is not merely below acceptable standards, but it is:
neglectful;
disrespectful, and;
even potentially life-threatening.
Your chosen caregivers violate your trust, which is why you may be wondering: Can you sue a nursing home for negligence? If so, you can rely on care home claims solicitors for help obtaining the appropriate compensation.
Experienced Care Home Negligence Claims Solicitors
The Medical Negligence Experts have extensive experience with care claims in both England and Wales. Injury claims as a result of care home abuse or neglect need our expertise. Don't hesitate to contact us to receive the compensation you deserve. We can also represent families who sadly:
have lost a family member as a result of negligent/poor care, or;
are acting on behalf of a relative who is living with a condition like dementia and;
doesn't, therefore, have the faculties to manage their own finances or make reasonable decisions.
Do you believe you have grounds to seek compensation following negligence? Then please feel free to contact The Medical Negligence Experts for legal advice.
A No-Obligation Consultation
The specialist care home claims solicitors we work with help determine if you can make a claim and how to proceed. There is no charge for this consultation, and there is no obligation for you to apply for compensation. But it will answer any questions you have. Plus, it gives you the information you need to decide about requesting payment for general & special damages.
What is Care Home Negligence?
With people living longer and families living further apart, care homes are a viable option for elderly or infirm people who need daily assistance but do not require hospitable treatment, and would like to maintain a degree of independence. They deserve health and safety and comfort every day.
Fearful that your loved one has suffered from not receiving an acceptable standard of attention? You must report your concerns to the manager of the facility. Keep a record of any evidence you believe supports this: photographs of bruising, injuries, or weight loss.
Moreover, take notes from what you have seen on your visits. Your concerns require adequate investigation, with any necessary actions being taken to fix the problem.
Vulnerability to care home negligence claims
Old age and ill health make patients in care homes and nursing homes particularly vulnerable to mistreatment. Neglect in care homes happens when those paid to look after a person's welfare are neglectful in their duties. There are many ways a care home can be negligent with instances including:
Failure to prevent pressure sores by not moving a patient regularly in bed or their wheelchair, or providing them with the equipment to do this themselves;
Not identifying and treating bedsores quickly to prevent them from becoming infected;
Giving a patient the wrong dose of medicine, or even mixing up their medication completely with another patient;
A poor standard of staff training which leads to injury caused by preventable mistakes;
The causing of injuries like bruising or fractures when moving a patient, such as between their bed and a chair;
Not providing bed rails, grab bars, walking frames/sticks and other mobility aids;
Insufficient monitoring or supervision of patients with mental illness;
Inadequate support during mealtimes that causes dehydration or malnutrition, and;
Lack of nursing care that allows a condition to deteriorate unnecessarily.
The Health Secretary receives 112,000 cases of alleged elderly abuse in England every year. Couple that together with numbers from the rest of the UK, and the figure is around 200,000. It is entirely unacceptable.
A high profile example of care home negligence claims
One high profile example of nursing home negligence was a claim made by the family of a woman. The woman dies as the result of being given an excessive amount of Warfarin.
Warfarin, an anticoagulant drug, thins the blood and is common in treating blood clots from forming in the arteries. But the patient was given three times the necessary dose. She subsequently bled to death as a result.
Care home negligence claims do not only refer to elderly patients. Examples of a successful care home negligence claims include one by the husband of a woman who attempted suicide.
The event occurs while she is in a secure mental facility in 2008, at age 34. Although her attempt was unsuccessful, it did leave her with significant brain damage. In turn, this meant she would require a lifetime of nursing care.
The court rules the health facility where she was staying was guilty of neglect through inadequate monitoring. There is a substantial amount of care home compensation paid out in both recognition of her future care needs. Not to mention the loss of the financial contribution she made to the household.
How Can We Help?
The Medical Negligence Experts appreciate the range of emotions people feel when they first consider making care home negligence claims. Anger that a loved one received such poor treatment; a sense of betrayal that the care home abused your trust; confusion about how you can put things right; and possibly even guilt that a person you love was in that situation in the first place. These are all normal feelings to have, and we will help you by making the care claims process as straightforward as possible.
There is a three-year time limit from the date of personal injury, so do not delay in contacting us regarding nursing home claims. We will talk to you in-depth about your situation, and seek advice from independent medical professionals when necessary to assess whether your claim has merit.
We will then collate the required evidence and present it to the care provider with a request they compensate you accordingly. If they refuse, we will refer the case to court. However, this is the last resort as we appreciate how distressing it can be for some clients.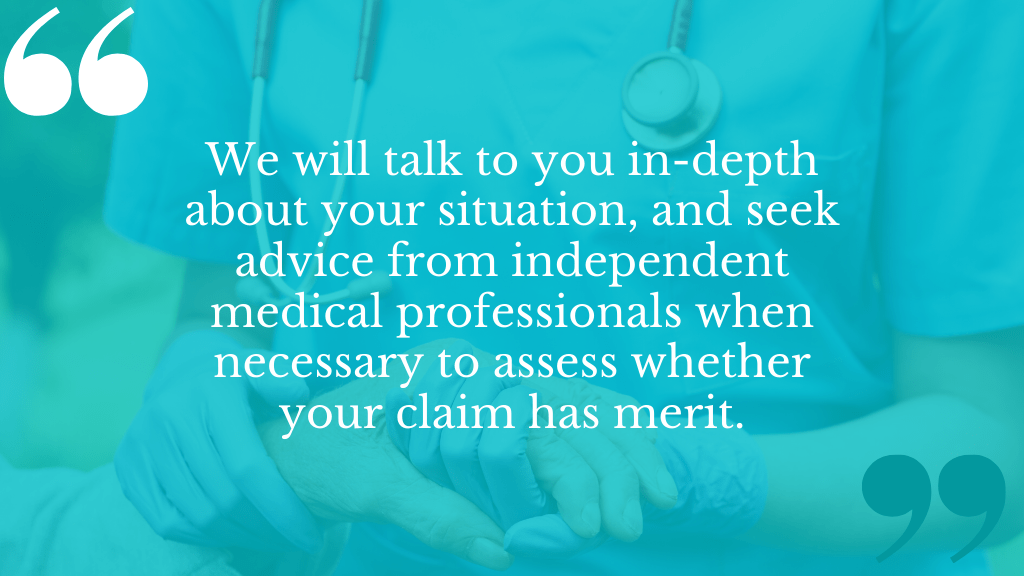 Your responsibilities
As the claimant, the responsibility lies with you to justify your claim. You have to demonstrate the extent of your injury. Moreover, you need to prove that it's the result of negligence and not through pure bad luck or an underlying condition. This is another reason we recommend that you talk to us at the earliest opportunity, as we can advise what evidence you need to support your claim.
We know from experience that it is faster and easier to obtain this information, which includes items like medical reports, photos, correspondence between you and the care home manager, witness details, and other tangible evidence before too much time has elapsed.
Maximum compensation is not only about making sure you are not out of pocket financially due to poor level of care, but it is also about receiving a formal acknowledgement of your pain and suffering. A successful application for payment of damages will address this.
Although it is important to note, successful care home claims will not lead to an apology or even the assurance that procedures will be changed to make sure your experience is not repeated for another patient. Talk to your lawyer about the options available if these are also your desired outcomes.
No Win No Fee* Care Home Negligence Claims
We make first-class legal support affordable with our No Win No Fee* basis agreement. This conditional agreement minimises any financial risk associated with making an application for compensation. It works together with an "After the Event" insurance policy.
There is no need to pay for solicitors fees for unsuccessful care home claims, and the insurance coverage will pay the defendant's legal fees. If a claim is successful, then you will pay your lawyer a success fee. A success fee is a percentage of your compensation you agree upon at the start of your claim.
In addition to making quality legal advice and representation affordable, No Win No Fee agreements give you the extra reassurance that our care home claims solicitors will be doing everything in their power to ensure you receive the highest possible compensation payment, because if you don't receive compensation, then they don't get paid. We will take the time to investigate your case to establish whether it has a good chance of success before we advise whether or not you should proceed.
Nursing Care Home Neglect and Negligence Claims FAQ
Can you sue a nursing home for negligence?
You may be able to claim compensation if you have received negligent care that has caused an injury or illness you would not otherwise have suffered. You can also raise a claim on behalf of a victim who is unable to act for themselves legally. Any money awards would go into a trust to be used for their care and comfort. It might also go to their family or estate where claims come up for wrongful death from negligence.
Before advising whether you have grounds to make a claim, your solicitor will examine a variety of subjects.
For instance, whether your care provider fails in their duty of care?
Did they take all reasonable steps to avoid this situation?
Moreover, did they ignore or underestimate the risk?
Were you, or the person who you are acting for, injured as the result of this negligence, or was an existing condition made worse?
It is possible to receive negligent care without suffering an injury, just as it is possible to receive an injury that did not result from negligence.
How long will a compensation claim for care home negligence take?
Applications which involve straightforward injuries and where responsibility has no dispute conclude quickly. Especially in comparison to when:
The long term prognosis of a patient is unclear;
The other party denies liability, and;
Where evidence supporting the claim is not readily available.
What evidence will I need?
Supporting evidence can include:
Medical reports detailing any injuries, including photographs that show the extent of visible injuries such as bruising;
The contract with your care home which is evidence of their agreement to provide an acceptable standard of care;
A diary noting conversations you have had regarding the perceiving negligent care. Details of incidents of negligent care and the effect this has had on you (or the victim if you are acting on their behalf), or;
Receipts for any expenses incurred as the result of negligent care.
Can I raise a medical negligence claim for someone else?
The Medical Negligence Experts regularly work with family or close friends of victims of medical negligence unable to bring the claim themselves. Compensation goes to the victim, or into a trust if they cannot manage their legal affairs and finances.
How much money will care home negligence compensation will I receive?
Your medical negligence solicitor will advise what they believe to be a fair amount of compensation. It depends on
The nature of your injury;
Any implications it has on your life, plus;
Any costs you incur as a result, including transport and prescription costs.
Is there a time limit for claiming compensation?
In most instances of care home negligence, you have three years to bring a claim. The exceptions are if the victim was under the age of 18 at the time of their injury – they have until their 21st birthday. Also, if the injury is not immediately seen as a result of negligent care. In that case, the time limit starts from the date this is officially known.
You may be unsure if you can claim compensation. We're happy to help by answering any questions you have about your eligibility and the application process.
Contact The Medical Negligence Experts today to make a free, no-obligation enquiry about how we can help you seek compensation for care home negligence. You can either call directly or, if you prefer, you can fill out our online contact form and we will phone at a time that suits you.
*Please note that conditions may apply.