Physiotherapy Negligence Claims
We specialise in helping victims of physio negligence claim the compensation they deserve
Start your claim
Find out how much your claim could be worth now…
Physiotherapy Negligence Claims
In short, Physiotherapy Negligence Claims: what causes them, exactly?
Physiotherapy is a specialised branch of medicine that can help people of all ages. Though primarily known for treating back pain and sporting injuries, a physiotherapist's knowledge can also help individuals who have been hurt in accidents or who are struggling with reduced mobility caused by ageing.
Whether you pay to have physiotherapy from a private practitioner or it is something you access through the NHS, you should not expect that your treatment to leave you struggling more than before. Physiotherapy negligence is a small area of medical negligence. But one in which solicitors The Medical Negligence Experts work with have experience handling.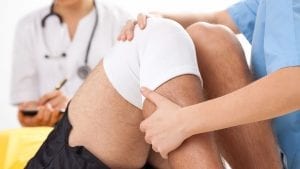 What is Physiotherapy Negligence?
Physiotherapists treat injuries to muscles and tendons, as well as areas affecting circulation. Patients seek physiotherapy for treatment when injury or illness has limited their flexibility and range of movement. Some patients have physio to help them recover from a sporting injury or damage sustained in a fall or car accident. Others have it to help combat the symptoms of a degenerative condition or the natural effects of ageing.
The nature of the treatment delivered by a physiotherapist can take various forms depending on the type of injury. For example, some patients may benefit from hydrotherapy, while others will respond better to manipulation and massage. Physiotherapy negligence occurs when a patient receives an injury due to an avoidable error their therapist has made.
Examples of physiotherapy negligence are:
Using an incorrect technique, or being overly vigorous when manipulating a patient's body.
Using an inappropriate type of therapy for the patient's needs.
Inadequate assessment of a patient's condition before starting treatment.
A case study of physio negligence featured a woman who had an incorrect diagnosis from her physiotherapist. She subsequently received the wrong treatment which compounded her injury and caused her a significant quantity of pain.

The physiotherapist was found to be negligent. He diagnosed her with a condition without having all available information, including a scan. This is the only way his diagnosis could have been accurate.

The effects of the negligent treatment are ongoing. Moreover, the evidence was sufficient to prove he was the physiotherapist negligent in diagnosis.
How can we help with Physiotherapy Negligence claims?
Indeed, the legal experts we work with do their best to make it as straightforward and stress-free as possible. But processing a claim for medical negligence on a No Win, No Fee basis of legal fees takes time. We always advise clients to get legal advice as early as possible.
Even if they are still having ongoing specialist medical treatment to correct the injury. Because, as with The Law Society dictates of our firms, the earlier a claim starts, the more likely you'll win with a capable medical negligence solicitor. Moreover, the law firms of The Medical Negligence Experts are authorised and regulated by the solicitors regulation authority (SRA).
The majority of clinical negligence cases never reach court, as a settlement takes place first. However, should this not occur, we'll continue to represent your best interest until finding a resolution.
Is there a time limit for starting a physiotherapy negligence claim?
There are strictly enforceable timelines for bringing about a medical negligence compensation claim. In most instances, this must occur within three years.
The exception is if you were under the age of 18, in which case you have until your 21st birthday to start a claim. Parents of minors can avoid this delay by starting a claim on behalf of their child.
Can someone raise physiotherapy negligence claims for someone else?
A family member or very close friend may not be able to raise a claim themselves. Either because they are:
legally unable to manage their finances and affairs or;
because they have not yet turned 18.
Accordingly, you can act as their Litigation Friend and raise a claim on their behalf.
Compensation goes into trust – until they come of age or can make financial decisions for themselves. It can also cover the costs of any additional care or treatment the victim needs. Because the payment of damages goes into a trust, it needs judge approval.
Will I have to go to court?
It is very unlikely your claim will go to court. In 98% for NHS cases, compensation requests reach a resolution out of court.
Accordingly, we may recommend you submit your application to a judge if the other party denies liability. But you need evidence that shows they were negligent, or if they do not offer a fair amount of compensation.
You do not need to worry if your claim does go to court. We will continue to support and advise you and can arrange for a barrister to represent you on the day. Claims will then go before a judge in a civil court. These courtrooms typically look like offices or conference rooms.
Moreover, there is no jury, and the judge wears normal business attire.
Your barrister will present your case to the judge, who may ask a few questions for clarification. The defendant's legal team will give their evidence.

Then, a judge will make their decision on whether they were responsible partially or fully for your injury. Plus, the judge determine exactly how much compensation the victim might deserve for it. Regardless, the decision in this situation is final.
We always try to resolve claims out of court in part to avoid extra stress for you. But also because it can extend the time your application takes to process. We will continue to negotiate for a favourable outcome even once a court date has been assigned. An acceptable offer often comes to be on the day of a hearing.
How much compensation will I receive for my physio negligence claim?
A medical negligence claim can take up several years of your life. Therefore, it's understandable you want to know what may be waiting for you at the end of it. The amount of compensation you receive depends on the type of injury and how it impacts your life.
General damages recognise your pain and suffering. Special damages cover any additional expenses you incur as a result of your injury. Special damages can also take into account future losses:
loss of earnings if you are unable to continue working in the same capacity, or;
ongoing medical costs.
How do I start a claim for compensation?
The first step in your successful claim is to talk to The Medical Negligence Experts. We will investigate and let you know whether you have legal grounds to make a claim. If you agree to proceed, then we will notify the other party of your intention in writing. Then, we begin to gather the evidence that will support your claim.