Medical Negligence Claims for Birth & Pregnancy Issues
We specialise in helping victims of pregnancy medical negligence cases claim the compensation they deserve.
Start your claim
Find out how much your claim could be worth now…
Pregnancy Medical Negligence Cases & Medical Neglect During Pregnancy
Suffer from birth negligence during your pregnancy? Sometimes it can be difficult to know if you have decent pregnancy medical negligence cases against your healthcare provider. Especially if it is your first pregnancy and you don't have any benchmark to compare it to. In the end, we're all about the mother's well-being and both child health and child protection.
For the most part, antenatal care in the UK is exceptional when it comes to pregnancy medical negligence cases. But there are some instances where mistakes and neglect during pregnancy occur. Moreover, the results of pregnancy medical negligence cases can be life-changing.
The Medical Negligence Experts helps those affected by negligence who wish to seek birth injury compensation. We work with leading birth injury solicitors around the UK. Ultimately, it's their job to support you from your first enquiry until we resolve your claim.
Dealing with the injustice
We appreciate that pregnancy negligence can be enormously traumatic. Moreover, you'll feel that a sense of injustice can prevent you from moving forward. We are relentless in our pursuit of getting you the compensation medical malpractice can leave you needing and deserving of. Our goal is to aid your recovery.
Accordingly, we know you have already suffered physical and emotional abuse. So why should you also have to suffer financial damage? You can receive birth injury compensation as payment in recognition of the trauma you endure for pregnancy medical negligence cases.
What is Pregnancy Negligence?
Pregnancy negligence is when you receive ante or neonatal care that is below an acceptable standard. Additionally, that substandard care causes personal injury to you or your baby. Below, we address several examples of pregnancy negligence.
Birth Issues Negligence Claims
Pregnancy and birth may be naturally occurring situations, but they are far from risk-free. It is the responsibility of those caring for the mother to recognise and manage these risks effectively. Complications such as preeclampsia and gestational diabetes should easily be detected through regular midwife appointments.
NICE guidelines outline the process for screening of foetal anomalies, infections, and other clinical conditions. Additionally, they outline the steps to take if foetal growth is outside normal ranges. Ignorance or poor performance mean it's possible that both mother and baby can suffer immutable, even fatal, harm.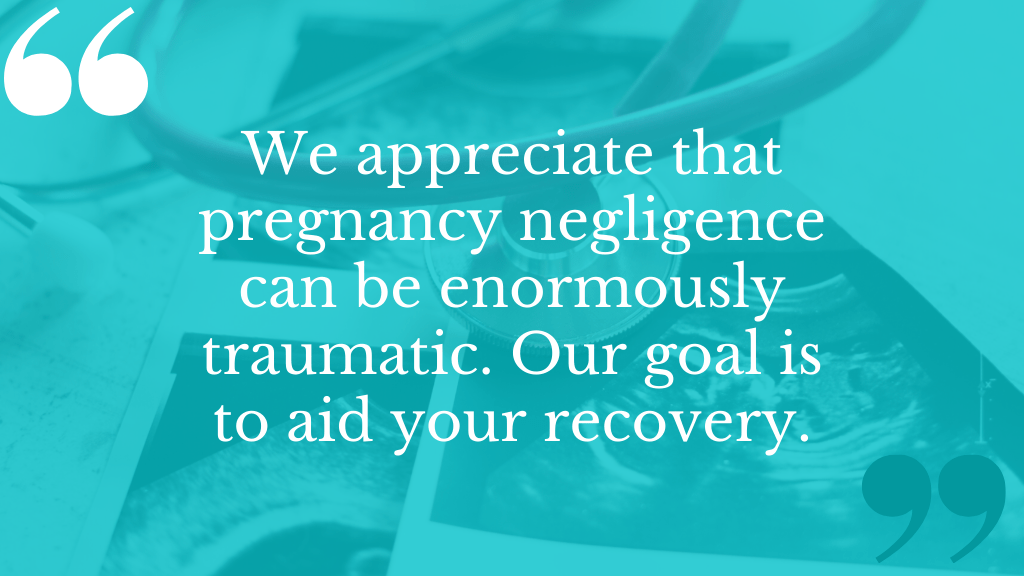 What is a Birth Injury?
Birth injuries can affect both the baby and the mother when it comes to pregnancy medical negligence cases. This may happen when medical experts do at least one of two things.
First, they fail to follow the correct procedures.
Also, when medical staff carry out these procedures in a substandard manner.
It can also refer to a mother receiving a poor standard of care during her pregnancy. In turn, that neglect during pregnancy leads to unnecessary labour and birth difficulties.
Examples of birth issues caused by medical negligence can include:
Third and fourth-degree perineal tears;
The poor performance of an episiotomy;
Mismanaged pre-eclampsia.
Damage to organs (such as the bladder) during a Caesarean section.
Cerebral palsy caused by limiting a baby's oxygen supply.
Failing to identify, or delayed intervention, when a mother or baby is in distress.
Errors with intervention, such as incorrect use of forceps.
Fracturing a baby's bones, or causing hip dysplasia.
Obstetrics negligence claims
Obstetrics negligence claims can also include instances where negligence has fatal results. One incident occurred where an ultrasound at 28 weeks detected that a baby's growth had slowed startlingly.
The radiology specialist should have known to schedule further tests to determine a cause and monitor the child's development. Unfortunately, they felt no further action was necessary. Unfortunately, this led to a stillbirth at 39 weeks due to placental failure.
Medical experts suggested that timely intervention and an emergency Caesarean section would have changed the outcome. In short, the baby girl, though premature, almost certainly would have survived and been healthy. In the end,
the medical claims for birth injury compensation were successful.
The court also accounted for the mother's subsequent depression.
Cauda Equina Negligence Claims
Cauda Equina Syndrome compensation claims require a medical negligence solicitor with specific knowledge of the condition. Moreover, that solicitor should know how it can affect mothers now and in the future.
Cauda Equina occurs with compression of the nerves. Causes include a spinal herniation or tumour, but also pregnancy.
Symptoms include lower (often intense) back pain, incontinence and loss of sensation in the buttocks and legs. If left untreated it can cause permanent paralysis and incontinence.
Cerebral Palsy Negligence Claims
Every cerebral palsy compensation claim we handle is unique because its effect can vary significantly between individuals. Cerebral palsy is effectively a brain injury or brain damage that results from a lack of oxygen. Negligence during the birthing process is one of many ways that cerebral palsy can occur. However, it's not exclusive in link to childbirth and can happen for many other reasons.
The effects are permanent and wide-ranging. From mild lack of coordination to severe learning difficulties, problems with hearing and speech, and a lack of muscular control. Some sufferers of cerebral palsy will require a lifetime of care. Accordingly, it's vital that an expert handles your case for a cerebral palsy negligence claim.
Contraception Failure Negligence Claims
Not every pregnancy arrives with a sense of wonder and excitement. When a woman falls pregnant as the result of contraception failure they can feel scared and betrayed.
If you have fallen pregnant as the result of contraception failure, reach out to us. For example, a contraceptive implant is subject to a faulty installation. Regardless of how you get there, talk to The Medical Negligence Experts to see whether you're eligible.
Failed Abortion Negligence Claims
No woman makes the decision to terminate a pregnancy lightly. The procedure, although usually straightforward, has both physical and emotional implications. To then find that she has gone through the process for nothing can be devastating.
Failed abortion compensation can also cover the cost of another operation plus any wages you've lost because of extensive recovery time. It can also contribute toward the costs of pregnancy and labour if you choose to proceed with the pregnancy. However, please know that there's no pay for damages to cover the cost of raising a child.
Forceps Delivery Negligence Claims
It's becoming less common for doctors to use forceps during the second stage of labour. By comparison, the ventouse can be more gentle and accurate than forceps. However, forceps are still the tool of choice for delivery for the most part.
Moreover, they can be of assistance if the mother is tired and struggling. Or if the baby needs help moving down the birth canal, or if the baby is presenting as breech.
But if they are used incorrectly, forceps can cause serious damage to the mother. Examples include serious lacerations, bladder and urethra injuries and possible incontinence, and ongoing pain. Babies can suffer bruising and swelling, brain damage, fractures of the skull and facial palsy.
As with any medical procedure, doctors need to obtain informed consent when using forceps on a baby. If the use of forceps harms a mother or child, there may be grounds for claiming negligence and receiving the compensation.
One in 15 babies – almost 120 a day – is delivered using surgical forceps.
Midwife Negligence Claims
Midwives are medical practitioners who look after a mother and her baby during pregnancy, birth, and for neonatal care. Midwife negligence can occur at any time.
For example, when a midwife doesn't take appropriate action if a mother is showing signs of having a high-risk pregnancy. Another example is when mistakes are made during or shortly after birth.
For example, a mother with high blood pressure or gestational diabetes requires more frequent monitoring. Accordingly, both conditions are contributing factors in some stillbirths.
Miscarriage Negligence Claims
The Medical Negligence Experts obtain maximum compensation for all types of pregnancy negligence including miscarriage negligence. The Miscarriage Association estimates nearly 250,000 pregnancies will sadly end in failure every year. The cause will be unknown for the majority of these. However, a significant number will be the result of inadequate poor care.
Miscarriage negligence occurs if a woman known to be at a high risk of pregnancy isn't adequately monitored. It can also happen if a woman is given medical treatment without first checking whether she is pregnant. In turn, this treatment leads to miscarriage, or when conditions like Polycystic Ovary Syndrome (PCOS) or ectopic pregnancy are misdiagnosed.
Stillbirth Negligence and Neonatal Death Claims
Once a baby reaches 24 weeks gestation, they are considered "viable". That is, they are likely to survive – albeit with significant medical intervention – if they are born at this time. Every day in the UK, between ten and twenty babies are stillborn or die within hours or days.
Examples of stillbirth negligence include:
Inadequate antenatal monitoring of a baby's development through regular appointments;
Failure to refer a mother for appropriate assessment if she is at a higher risk;

Especially for conditions like diabetes, obesity, or high blood pressure;

Failure to identify and treat maternal infection, and;
Also, a misread of tests or scan results.
Not every mistake made during antenatal care is a result of negligence, however. Sometimes, despite taking every precaution, a mother or baby may face inevitable health issues. Or the effects of emotional abuse or domestic violence outside the healthcare facility. Negligence, by contrast, is when issues could have been avoided with an adequate standard of care.
Special Care Baby Units
Successful medicine claims include those against special care baby units delivering malpractice and subsequent harm of a child. Failures in special care baby units can have a profound effect on the outcomes for already poorly children.
Claiming Compensation for Pregnancy Negligence
Talk to The Medical Negligence Experts today to find out more about claiming for pregnancy negligence and birth injury compensation. We can assist even if you are unsure whether you have grounds to make a claim. We're serious about assisting those who've been let down by their medical team. As a result, we offer free, confidential advice to help you decide if and how to proceed.
You've already been through enough pain and suffering with your injury. Therefore, we do our best to make claiming compensation as simple and stress-free as possible. We do this by:
Providing you with free, no obligation legal advice so you can make informed decisions
Reviewing your circumstances thoroughly before advising whether we believe your claim would have a substantial likelihood of success.
Giving you an estimate of how much you could expect to receive.
Removing the financial risk out of making a claim with our No Win No Fee* agreement. It gives you confidence that we will work hard on your behalf. Moreover, you won't be left out of pocket by having to pay the legal costs of an unsuccessful claim.
Giving you the direct contact details of your medical negligence lawyer. Plus, you'll have their phone number and email address, not some general call centre number. So you have an expert on hand to assist.
The Claims Process
The claims process is the same whether you experienced negligence under the care of an NHS or private practitioner. The only difference with the NHS is they have an internal department that handles compensation and medicine claims. The Compensation Experts know the NHS' defence processes extremely well.
Virtually every medical negligence claim (over 98%) raised against the NHS is paid without the need to go to court. Furthermore, that number is similar to claims against private practices.
A compensation claim offers you financial recognition of the pain and suffering. Yet it won't necessarily give you an apology, or result in wholesale changes in practice. By contrast, you can achieve those objectives by lodging a formal complaint with the NHS trust responsible for your care.
You don't need to wait for your complaint's resolution before you start a compensation claim. However, the findings from a complaint can strengthen your application for damages. A complaint will produce answers and, hopefully, assurance that the Trust will ensure it doesn't happen to other patients. Compensation will make sure you do not suffer financially because of your injury.
Seek Legal Advice
We recommend you seek legal advice as early as possible. Above all, there are statutory time limits for claiming negligence and compensation. Yet knowing your rights can help you make the best decisions for you and your family.
The Medical Negligence Experts also assist in ensuring you can access the medical care you need. We can request an interim payment where the other party admits liability but cannot immediately cover compensation to the fullest. For example, if a prognosis regarding the extent of brain damage is difficult to reach. We will do whatever we can to support you through what we appreciate may be a tough time.
Special damages fees can cover medical claims up to the cost of any reasonable private medical care. However, if you are unsure about what this may include, ask your medical negligence solicitor first.
Contact The Medical Negligence Experts today. Discover more about how the legal firms we work with can help you obtain maximum compensation for your pregnancy negligence, birth, or medicine claims. We also help with road traffic and other accidents involving personal injury, even with medical professionals and medical staff.
*Please know that conditions apply.