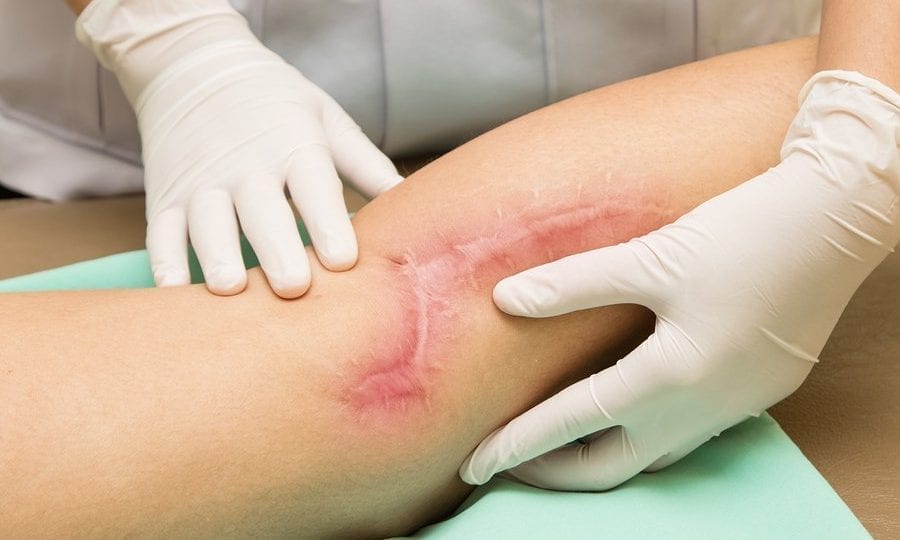 Scarring Negligence Claims
We specialise in helping victims of scarring negligence claims get the compensation they deserve.
Start your claim
Find out how much your claim could be worth now…
Leading Scarring Negligence Claims Expertise
Scarring negligence claims are now a fact of life. Indeed, scarring is a risk with many medical treatments. Yet unnecessary scarring caused by medical negligence shouldn't happen in a modern UK health system.
Scar tissue forms after there has been damage to the skin, possibly from a cut or burn. Frequently the more severe the injury is, the worse the scar is. Although a person's skin type and age, as well as their health, can influence how it heals. Scars and scarring injury cases are not just a blemish on the skin.
In some cases, injuries can be quite painful and even require skin grafts where the healing skin becomes too stretched.
What is Scarring Negligence?
Scarring negligence can happen when inadequate care causes excessive laceration or skin damage which leads to a scar. It can also occur when a patient receives inadequate treatment for an existing cut. Possibly one they sustain in an accident, or when a surgical incision doesn't receive the correct care and reaches infection.
All of these examples are avoidable and can, therefore, be negligent. Negligence can occur whether a patient seeks treatment in private practice or through the NHS. Moreover, it does not matter if their surgery was elective (such as cosmetic surgery) or necessary.
Examples of scarring caused by negligence include:
Using the wrong type of stitches, or an incorrect technique;
Not using the correct equipment for making incisions or closing them up;
Excessive skin removal during operation;
Surgical errors, and;
Inadequate monitoring for infection after an operation.
Some clients are psychologically as well as physically damaged when medical negligence causes scarring or worse scarring than would otherwise be expected from their injury. This is especially true in cases of facial scarring.
Not all scars happen because of negligence but where they are, or where you can prove negligence led to an injury being worse than would reasonably be expected, you may be able to make a compensation claim for damages due to medical negligence.
How Can We Help?
Even if you're not sure whether you have a legitimate cause to claim compensation, get in touch with The Medical Negligence Experts. Our lawyers can assess your circumstances and advise whether you can proceed and, if so, how to do so.
We specialise in medical negligence claims. But even though we handle them every day, we always keep sight of the individual and their family at the heart of the process. You may experience significant let down by your medical team. But you won't be disappointed with the efforts of your legal team.
The Medical Negligence Experts will seek to prove that:
Your health care provider owed you a duty of care – this is typically easy to show as your doctor agreed to treat you as a patient.
They breached their duty with negligent care.
You suffered injury or illness as a result of the negligence.
This process is the same for any medical negligence claim, though the duration of the process will vary depending on your individual circumstances and the effects of your injury.
There is a legal time limit to claim compensation so contact us today and make a no-obligation enquiry to The Medical Negligence Experts to see how we can help you.
How we support you with scarring negligence claims
We support our clients by:
Investigating their situation thoroughly to ascertain whether their claim has a good chance of success. The onus is on the claimant to prove negligent care causes their injury, and it can be painful if it fails.

Collecting and organising evidence to present a solid case to the responsible care provider that supports your claim for compensation, which can also include putting you in contact with the right independent medical experts for their assessment.

Negotiating an acceptable amount of compensation based on your circumstances, and what has claimants with similar injuries to yours have received in the past.

Representing you and supporting you should your claim go to court either due to the responsible party disagreeing with the claim, or refusing to pay fair compensation.
No Win, No Fee Claims
Having a foreign item surgically placed in your body is not without risk. However, with skilful insertion and the correct care, there is no reason it should be anything other than a success.
But be it for medical or cosmetic reasons, resulting scarring negligence claims are a potential risk and a constant reminder. So if you suspect you're experiencing illness or injury due to scarring negligence, The Medical Negligence Experts can help.
Moreover, we can assist with funding in other ways. Because if your claim ultimately doesn't win, you don't have to be out of pocket. Certain insurance companies (including your home insurance, for instance) may offer After the Event cover – if not, we'll ensure you get a suitable ATE cover package.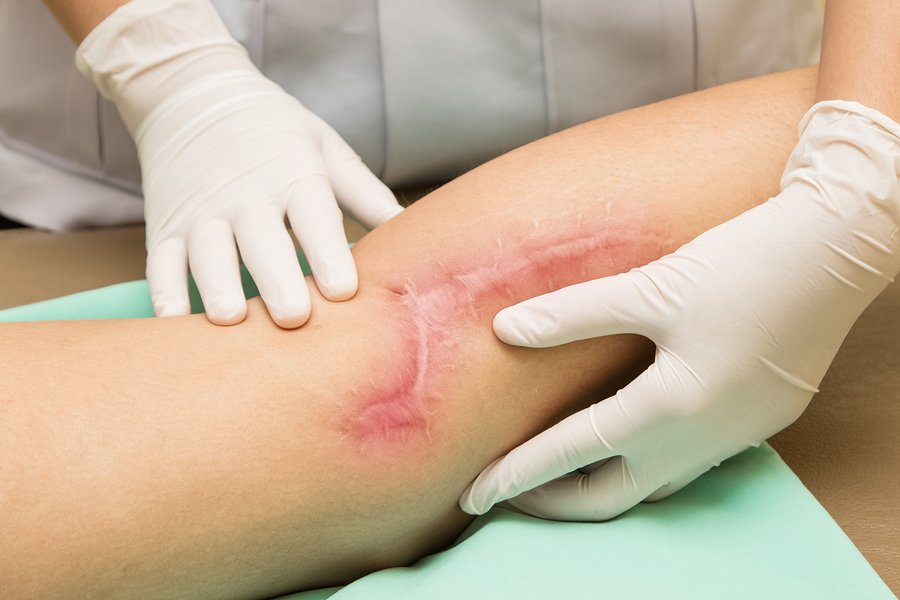 Scarring Compensation Calculator
We don't offer a calculator online, because each claim is different in nature. Rather than lure claimants with lofty figures that don't adhere to the realities of your case per se, we:
qualify your claim;
investigate it, and;
verify that you have a chance to win.
That's why we encourage a free initial consultation for potential claims. In turn, you can promptly set the course to see if scar settlements are possible.
Scar Injury Claims: Medical Negligence vs Personal Injury Claims
A note: The Medical Negligence Experts handle injuries compensation and settlement amounts for scarring compensation claims for medical negligence incidents.
By contrast, there may be permanent scarring via scenarios outside a healthcare facility. For instance, body scarring via accidents at work, car accident or road traffic accidents. For these scenarios, please reach out to The Compensation Experts and receive competent legal advice for personal injury claims from their specialist solicitors.
Am I eligible?
Did you suffer a physical injury in the last 3 years due to someone else's negligence? Then, yes: you're eligible.
How much could I claim?
As every case of medical negligence is different, the amount of compensation paid out can differ case to case. Varying factors lead to the final figure include: the extent of your injuries, earnings missed out on, future losses and more.
How does the process work?
We understand that when making a claim it's important to know what to expect and when to expect it. That's why we make the process as transparent & clear as possible.
Why should you use us for personal injury claims expertise?
No Win No Fee
We assess all claims on a No Win No Fee basis. From that, we can determine how successful a claim is likely to be. This service is 100% free.
Expert Solicitors
Our medical negligence solicitors aim to secure the best possible outcome for you. Meanwhile, we provide expert support and knowledge every step of the way.
Personal Dedicated Solicitors
Each client receives their own medical negligence lawyer. This expert will work on the case from start to finish, being there every step of the way. The client will be provided with a direct phone number and direct email address of the lawyer.