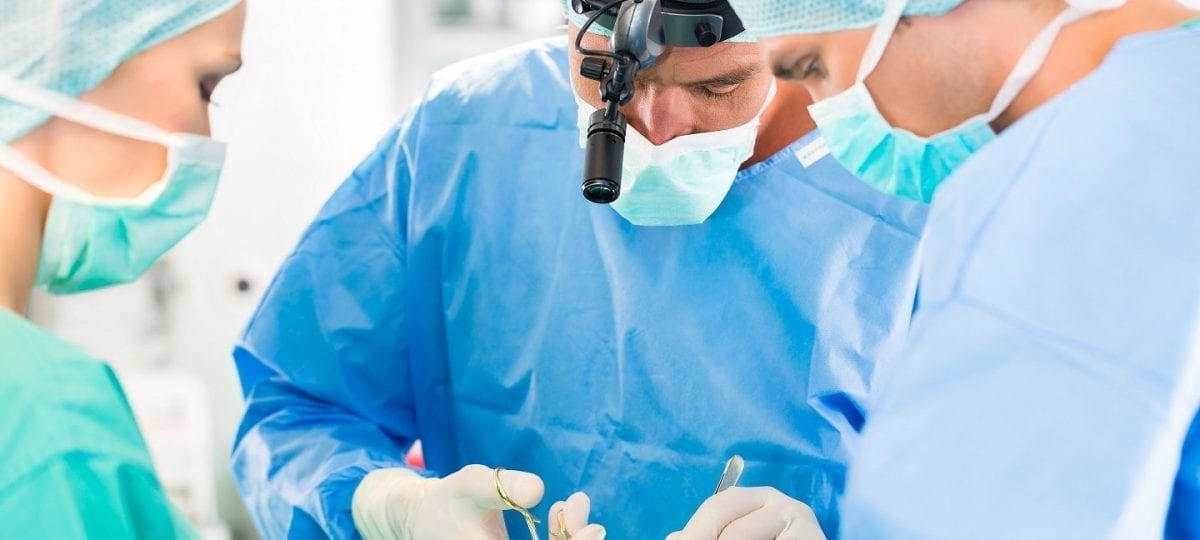 A Guide to No Win No Fee Medical Negligence Compensation Claims
Read through our full guidance below on No Win No Fee Medical Negligence Compensation Claims.
Start your claim
Find out how much your claim could be worth now…
If you suffer illness or injury as a result of medical negligence, you might consider claiming compensation. However, you may also worry about the cost of legal representation and taking your claim to court. No win no fee medical negligence compensation claims might be the right choice for your needs to address negligent duty of care.
We're often asked: "How long do medical negligence claims take to settle?" In short, medical negligence claims tend to be longer and more complex than other personal injury suits. Claims of this nature are also more expensive. As a result, you may be wondering how you'll afford to make a claim for compensation and what your chances are of winning.
As medical negligence experts, we believe every victim of malpractice should receive answers as to why the incident occurred, as well as the financial freedom to recover from the event with dignity. This is why we provide qualified solicitors from our panel for no win no fee medical negligence compensation claims.* We can help with all kinds of cases against malpractice for medical professionals.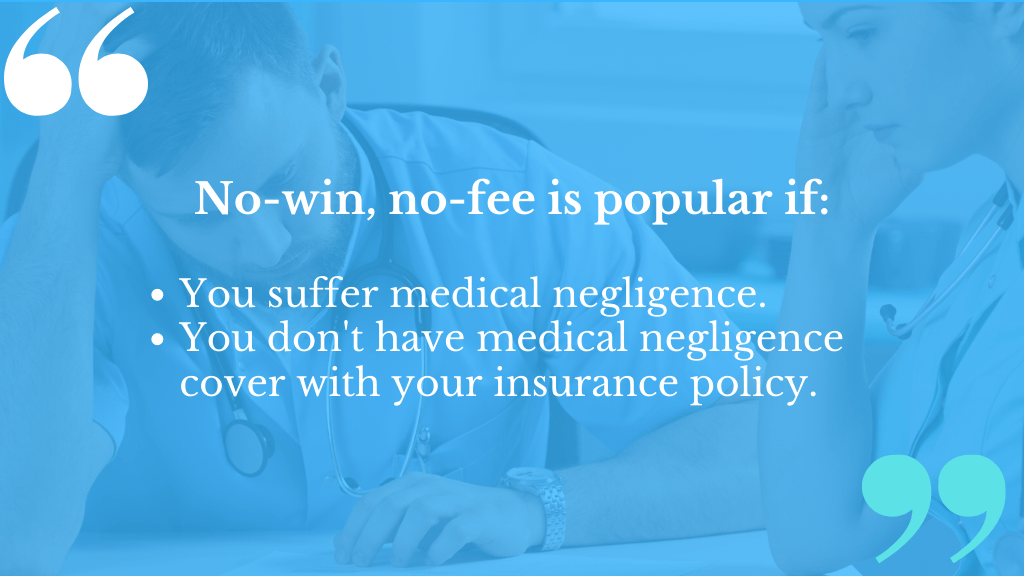 What are no-win, no-fee medical negligence compensation claims solicitors?
In a no win no fee medical negligence case, we don't force you to pay legal fees unless you win. It means everyone has access to legal representation, even if they can't afford to pay upfront. It also means that a no win no fee company has to be confident your case can win before they can take it on.
What are the benefits of no-win, no-fee medical negligence claims?
There are many benefits to the no-win, no-fee approach by the government. It's also known as the "conditional fee system". The main advantage is anyone subject to unfair, neglectful medical treatment can start a compensation claim, regardless of financial background or if they are claims against the NHS or private medical providers.
Other benefits include:
No huge bills
Medical negligence claims are notoriously difficult to prove in the first place. If you suffer an illness, injury or a loss of earnings after the event, don't fear the cost to claim for medical negligence.
Don't pay any money upfront
You can benefit from the best no win no fee negligence specialists without paying for their services upfront.
Free legal advice
All legal advice comes free of charge, as will any work is undertaken on your case. If you win, you will pay your solicitors an agreed percentage of your compensation.
What are the funding options for medical negligence claims?
Funding is the act of paying a solicitor to represent you in your medical negligence claim. Funding options for claims that take place in the UK include:
For one, public funding. Prior to April 2013, claimants could rely on the Legal Aid scheme to cover their solicitor's fees. However, this is no longer available. Moreover, most solicitors only bill for a no win no fee compensation solicitors service if the case is successful.
However, limits in funding might be available through the Legal Aid Agency for certain cases (e.g. those involving children or serious birth injuries).
There are such things as no win no fee insurance medical negligence claims solicitors. Ergo, they'll accept payments through your home, health or even car insurance policies. In essence, legal expenses insurance.
Check your insurance documents to see if they cover medical negligence claims. There is often a limit on how much you can claim through such policies, so study it closely. Normally, you must use a solicitor on the insurance company's list.
In actuality, you don't have to go down the no win no fee medical claims route. Instead, you can choose to pay your solicitor on your own, i.e. Private Payments.
Should that happen, you'll be liable to pay the entire legal fee even if you lose the case. As such, private payment is not a common method of funding medical negligence claims in the UK.
These "conditional fee agreements" (CFA) approaches mean you'll get your compensation no win no fee. In other words, you'll only pay legal fees if your claim is successful in a No Win, No Fee agreement.
No-win, no-fee is the most common option for those in two particular categories.
They suffer medical negligence.
They don't have medical negligence cover in their current insurance policy.
Conditional fee agreements (CFAs) with no win, no fee medical negligence claims solicitors
If you are successful in court via a CFA, you will need to provide your solicitor with the following payments:
Legal costs for representation: These vary depending on which firm you use. If you win, the defendant should cover your legal costs.
A success fee: This is a percentage-based fee that comes out of your compensation, but only if you win the case. This amount will be agreed by you and your solicitors at the start of your claim. Standard fees for successful claims are 25% of the compensation you receive.
What is a success fee?
When you enter into a medical claim no win no fee agreement, you must pay an additional amount on top of the legal costs paid by the other side. This is a success fee: it's typically a percentage of your compensation, or "damages," payment. The financial amounts of deductions in your payout depend on:
Perception of risks in your case.
The severity of the damages.
Whether the case is likely to settle.
Why can't I keep 100% of my compensation?
Thanks to the Legal Aid, Sentencing & Punishment of Offenders Act in April 2013, funding for medical negligence claims in the UK is different.
Before this date, the losing party always paid the claimant's solicitor's fees. Now, the one claiming compensation must pay the success fee. In medical negligence cases, this is usually the patient who is the victim of the injurious actions.
Under this new law, claimants on a no-win, no-fee basis must pay the solicitor's success fee from their own compensation.
No-win, no-fee: funding for everyone
No-win, no-fee agreements intend to give everyone the same access to quality legal advice, no matter what their financial situation. This means anyone can fund their litigation without taking financial risks that could further impact their future.
The risks associated with medical negligence claims now lie with the solicitor, who won't get paid if a claim is unsuccessful. It means you'll have the best no win no fee medical negligence specialists working on your case, and if they don't win, you won't have to pay them.
Are there any downsides to no-win, no fee Medical Negligence Compensation Claims?
The no-win, no-fee approach has many obvious benefits for injured patients in a medical negligence suit. The only downside is that solicitors are now more selective about which cases they will take on a conditional fee basis. However, from the claimant's point of view, this does mean you will get a thorough investigation of the facts and be sure that you have a chance of winning before you begin proceedings.
If your solicitor offers you a no-win, no-fee agreement and takes on your case, you can be sure that your case has at least a 60% chance of success. However, even the best solicitor is unlikely to take on a medical negligence compensation claim with only a slim chance of success.
If your case is perceived to be risky, then you may struggle to find a solicitor to represent you. Bear in mind that medical negligence claims are long and complex, so you should only think about pursuing one if you know you have a high chance of success.
The only other downside to a no win no fee medical negligence claim is that you may have to pay the defendant's legal costs if you lose the case. However, your solicitor will usually recommend that you take out a special type of insurance policy to cover these potential costs. This is known as "after the event" insurance.
Why might I need "after the event" insurance?
Medical or clinical negligence claims are complex, and no two cases are the same. Therefore, your solicitor may decide to consult a barrister or ask a specialist clinician to weigh in on your case. This might involve giving advice and preparing reports to assist you in court. The costs of these services are known as "disbursements."
Disbursements are not always included in a no win no fee negligence agreement, which means you may need to pay these costs upfront.
Typical disbursements in a medical negligence claim might include fees and costs for barristers, GP medical records, experts, courts and travel.
Remember: If you win the claim, the defendant will almost always pay these disbursements. But alternatively, if you lose, these costs will fall on your shoulders. In some circumstances, you may be liable for the successful defendant's costs as well.
These potential costs can be worrying for claimants, which is why most solicitors recommend that you take out "after the event" insurance (ATE). This insurance policy will pay the expenses that were incurred after the date the policy was taken out. It will also cover the defendant's costs should you lose the case.
What is the cost of ATE insurance?
The cost of your ATE insurance will depend on the amount of cover you are seeking and the strength of your case. However, your solicitor will be used to working with insurance companies. As such, he or she will be able to secure an appropriate, cost-effective insurance policy on your behalf.
In most cases, the insurance premium for ATE is only due at the end of the claim. It means you can pay it from your settlement if you win the case. Alternatively, you'll usually end up paying nothing with a loss.
Do I have to take out ATE insurance?
There is no legal requirement in the UK to take out ATE insurance to cover your medical claims no win no fee. However, without this cover, you may receive a large bill at the end of your case.
It is not necessary to expose yourself to financial risk when taking out a medical negligence claim. ATE combined with a no-win, no-fee agreement provides total protection. This way, you will pay little to nothing toward your legal costs, even if you lose your case.
Is ATE insurance available to everyone?
No. Insurance companies will evaluate your case to see if it has a chance of success. Like your solicitor, if they think your compensation claim has a slim chance of winning, they may be unwilling to work with you. This may also happen if your compensation amount is deemed too low.
Moreover, with ATE you can be sure that your case is strong. In addition, you can trust that you have a good chance of receiving compensation. Therefore, with a good legal team at your side, it is worth pursuing your case.
What happens if I can't get ATE cover?
If you are refused ATE cover, you'll need to speak to your solicitor to discuss other options. Together, you may be able to find another funding solution, or you might decide it is too risky to continue the case.
For advice and information relating to ATE insurance, please contact one of our best no win no fee medical negligence agents. You can contact us with no obligation or arrange a free call back.
I'm thinking of pursuing a no-win, no-fee compensation claim. Will I need to sign anything?
At the start of your no win no fee claims case, your solicitor will ask you to sign a conditional fee agreement. This is a legal document that must be signed if you want to continue with your case. It contains the terms and conditions under which your solicitor must be paid if you win your case.
The conditional fee agreement will clearly set out your financial responsibilities if you win your case. Therefore, it is important that you read and understand the information. Your solicitor will go through the document with you to make sure you're happy to sign.
Are there any hidden costs or upfront charges?
No. With the Medical Negligence Experts, there are no hidden fees. We are completely transparent about your payment obligations. We also do not expect any payment upfront – that's the beauty of no win, no fee medical negligence claims.
When can I expect to settle my no-win, no-fee claim?
Your case belongs to you, so you will have the final say about when to settle the claim and for how much – even in a no-win, no-fee agreement. Your solicitor may give you advice based on their expertise and experience, but they should never push you to settle early.
Is there a time limit for making a no-win, no-fee medical negligence claim?
Yes. The time limit for making a medical negligence claim is three years. It means that court proceedings must be issued within three years of the incident, or three years of you realising that negligence took place.
There are some exceptions to this rule. For example, when a patient is under the age of 18, there has been severe hardship following negligence, or the patient is disabled or mentally ill. However, most cases have to be acted on within the three-year timeframe to be considered by a judge.
Three years may sound like a long time, but medical negligence compensation claims are lengthy and complex. It's important to start your claim as soon as possible, so your solicitor has time to prepare and put forward your case.
How we can help
Medical negligence cases can be long, complex and time-consuming. Therefore, you should have the best no win no fee negligence specialists working alongside you to ensure the most favourable outcome. Not only will you not have to pay a penny unless you win, but you'll also have the best chance of getting the answers, justice and compensation you deserve.
Here at The Medical Negligence Experts, we are experienced in the field of medical negligence and no win no fee* basis of the arrangement. We will handle your case with respect and dignity, providing advice and support along the way. Our qualified panel of experts will approach your case with medical care and professionalism. By using a no-win, no-fee approach, your risks are minimal whether we deal with a private practice or NHS trusts claim on your behalf.
We only take on cases we honestly feel we can win on your behalf, and we only ask you for fees if you win. We never ask for payment upfront, and use law firms authorised and regulated by the Solicitors Regulation Authority (SRA).
*Please note that with no win, no fee medical negligence compensation claims, certain conditions may apply.