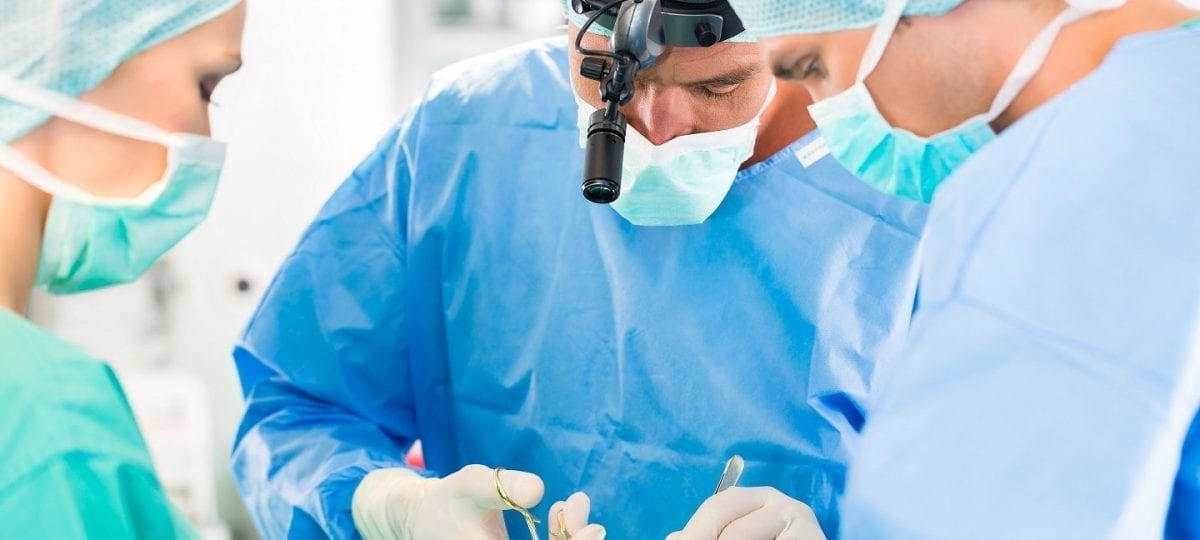 Liposuction Negligence Claims Solicitors For You
We specialise in helping victims of liposuction negligence claim the compensation they deserve
Start your claim
Find out how much your claim could be worth now…
Expert Solicitors for Liposuction Negligence Claims
Liposuction and liposculpture procedures are more common than ever before. In fact, you really don't have to look far or wide to see an article celebrating a celebrity's physical transformation. With liposuction negligence claims, the processes we associate with it commonly relate to the removal of stubborn amounts of fat.
In truth, they're more effective than traditional weight loss methods of dieting and exercise.
Around 5,000 people in Britain undergo the procedure every year, in fact. Moreover, most patients say they are happy with the results. But as a consequence, there's a growing number of patients and practitioners. Which leads, in turn, to a growing number of liposuction negligence claims for bad actors and/or bad actions.
Accordingly, with all that can go wrong in these procedures, The Medical Negligence Experts are here to help.
As specialist medical negligence lawyers, the solicitors we work with handle special damages & general damages for a variety of surgical procedures and cosmetic surgery claims. The Medical Negligence Experts pursue the compensation claims process every day. As a result, your claim receives the expertise and legal support it requires to receive the compensation you deserve.
What is Liposuction Negligence?
Liposuction may be a relatively common process, but this cosmetic procedure does not come without risks. Negligence occurs when the responsible surgeon and care providers fail to manage the risks. A patient may experience a delay in their recovery or even further injury as a result of negligence. Ergo, they could be eligible to make a claim for compensation.
Liposuction, according to statistics, makes up roughly one-fifth of all surgeries worldwide. In short, it initially involves breaking up fatty tissue. Next, by inserting a tiny tube under the skin, the surgeon suctions it out and sweeps around the area.
Additional smaller patches then receive treatment by way of a local anaesthetic. However, larger areas will require patients to be completely unconscious under a general anaesthetic, which carries further risks.
Liposuction negligence claims examples include:
Introducing infection through inadequate preparation and postoperative care.
Surgical errors, including punctured organs.
New issues with your skin, which can become bumpy and scarred.
Incorrect anaesthetic administration and monitoring, leading to a lack of oxygen.
Failing to obtain informed consent.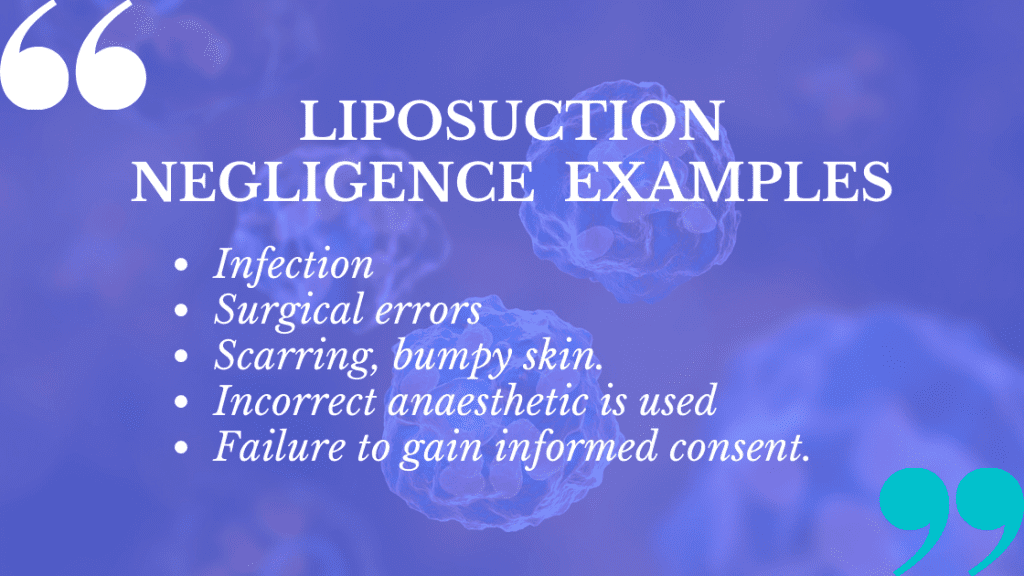 So start by researching your plastic surgeon thoroughly. Additionally, make sure your surgeon adequately informs you of all the potential risks and complications lipoplasty might deliver. As a rule, your doctor should go through this with you before arranging surgery.
Moreover, they need to ask you about your existing medical conditions. This is critical, as they need to make sure you are a suitable candidate for the procedure.
How surgeons prepare
To prepare adequately, your surgeon has a lot to do. As part of that preparation, they furthermore need to give you a realistic idea of the risks and the possible outcome. A truly professional surgeon is doing right by you if they give you the full picture of what can happen. Glossy images of models in their advertising materials cannot be your sole guide to the surgical outcomes.
As a rule, clinics shouldn't use tactics like offering you a substantial discount if you are wavering in your decision. Moreover, they should give you enough time to think about your choice before committing to surgery.
While a liposuction procedure may be elective surgery, you still deserve the same duty of care as any patient. We know a little something about, too, as experts of the personal injury claim process should do. Moreover, we take pride in working with the UK's leading law society.
Common side effects
Liposuction surgery is increasingly popular in the UK – studies show procedures went up by 13% in 2015 alone.
A common question within the profession is of why this is the case? In fact, there are many reasons that a person might receive a liposuction injury. Yet in turn, there are many more reasons why it may result in them making a liposculpture negligence claim.
Below, we list some of the side effects that are particularly common for liposuction negligence claims.
For starters, suffering bruises of flesh in the area of the body that the procedure occurs;
Moreover, there might exist a prolonged numbness on that area of the body;
In addition, the procedure might imprint long-term or even permanent scarring;
One sometimes overlooked issue is the inflammation of the veins in the area, and;
Also, the procedure might lead to certain bodily fluids escaping from the areas of the incision(s).
No Win, No Fee Claims
Having a foreign item surgically placed in your body is not without risk. However, with skilful insertion and the correct care, there is no reason it should be anything other than a success. Yet whether done for medical or cosmetic reasons, liposuction negligence claims are a frustrating fact of life.
So if you believe you're experiencing illness or injury due to liposuction negligence, speak with The Medical Negligence Experts.
How can we help?
The Medical Negligence Experts help first by assessing your situation and then advising if you have a valid claim to make. Compensation is not only about obtaining payment to cover your expenses. It's also about getting recognition and acknowledgement that your treatment fell short of expectations.
Therefore, if you decide to proceed, The Medical Negligence Experts welcome the opportunity to start your claim. We represent you and negotiate for the best possible outcome. If the situation calls for it, we'll request compensation to:
cover your loss of income,
additional care or treatment, plus;
any other expenses you have incurred as the result of clinical negligence.
It may be surprising to know that only a small number of claims ever need to go to court. Often, it happens either because the care provider denies liability or the parties cannot agree on an appropriate amount of compensation.
So be sure to contact us today and make a start on your compensation claim. Learn how The Medical Negligence Experts help with a claim for liposuction and other medical negligence claims requiring injuries compensation.
How our team builds a robust medical negligence case
We work with the UK's top lawyers, but we're also people with families of our own. Above all, we understand that making a medical negligence claim can be stressful for those unfamiliar with the process.
It can be drawn out and complicated, but we will keep you updated – without using excessive legal or medical jargon – so you know what is going on.
Contact The Medical Negligence Experts today, and ask how we can help you.
Am I eligible?
Did you suffer a physical injury in the last three years due to someone else's negligence? If so, then the answer is Yes: you would be eligible to make a claim. So make sure you gather as much information as you can before the three-year time limit runs out.
How much could I claim?
As every injury is different, the amount of compensation differs from case to case. Various factors lead to the final figure, such as the extent of your injuries, loss of earnings & future losses and more.
How does the process work?
We understand that when making a claim it's important to know what to expect and when to expect it. Consequently, we make the process as transparent & clear as possible.
Why should you use us for liposuction negligence injury claims expertise?
No Win No Fee
We assess all claims on a No Win No Fee basis. As a result of that, we can determine how successful a claim is likely to be. Better still, this service is 100% free for all clients to use.
Expert Solicitors
Above all, our medical negligence solicitors aim to secure the best possible outcome for you. Meanwhile, we provide expert support and knowledge every step of the way.
Personal Dedicated Solicitors
Owing to better working relationships, each client receives their own medical negligence lawyer. That is to say, this expert will handle your case from start to finish. The client will receive a direct phone number and email address of the lawyer.