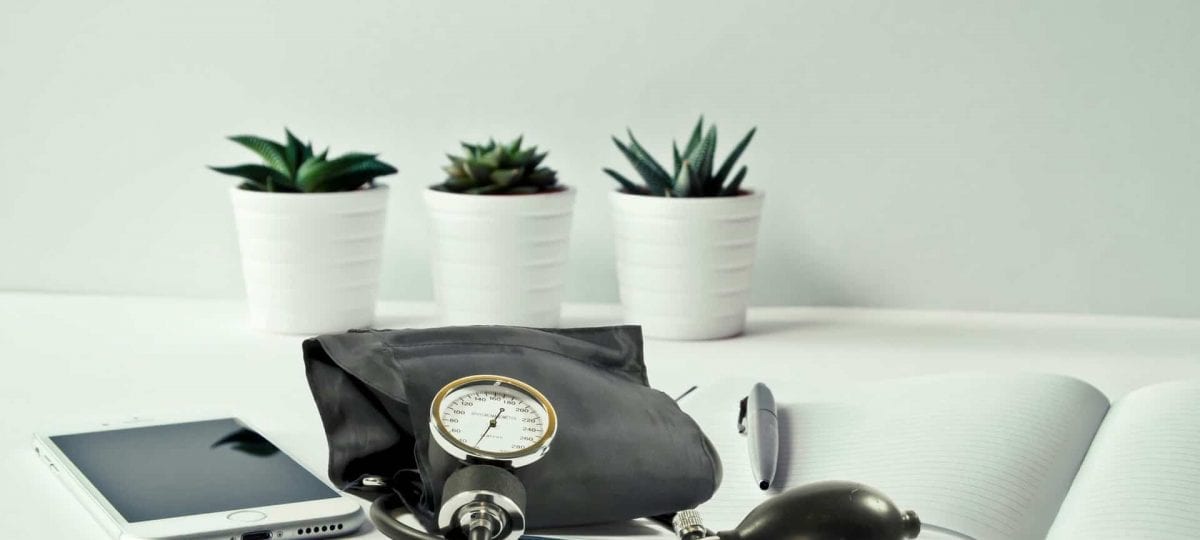 A Hospital Guide to NHS Negligence Claims
We specialise in helping victims of medical NHS negligence claims get the compensation they deserve.
Start your claim
Find out how much your claim could be worth now…
NHS Negligence Claims Solicitors: Suing the NHS
The NHS leads the world in public healthcare. A valuable resource is the oldest system of its kind anywhere in the world. One that other countries have sought to emulate. But when things go wrong, you need a guide to NHS negligence claims.
There are millions of treatment sessions by the NHS annually – baby deliveries, operations, consultations, tooth extractions and physical therapy. In summary, it's impressive to know that most patients receive a high standard of care. Unfortunately, mistakes do happen, even in medical care. Accordingly, The Medical Negligence Experts will help you launch successful claims against the NHS.
The NHS seeks to provide an excellent & affordable standard of health care for all. That applies equally when you:
Sprain your ankle.
Require a prescription.
Undergo basic dental checkups.
Find yourself suffering from a life-threatening illness.
In short, people trust the NHS to take care of them from birth to death. However, a growing population and budget constraints have stretched it further than it can comfortably go. It is not fair that you should have to suffer physically or financially because of someone else's error.
NHS Negligence
NHS Negligence is a specific type of medical negligence. It arises whenever a patient receives an unacceptable level of care at an NHS facility.
Most treatments come with some degree of risk, however. A care provider sometimes fails to take every reasonable step to avoid these risks, leading to harm. As a result, you may be eligible for suing the NHS for medical negligence. The treatment does not have to be supplied by a doctor or surgeon, however.
Acts or omissions that can give rise to NHS compensation claims can come against:
nurses;
physiotherapists;
radiologists;
dieticians;
pharmacists;
lab technicians and;
even porters.
In reality, their actions can give rise to NHS negligence claims if they did not conform to standards. There is a large volume of NHS negligence claims in circulation. As a result, they have their own in-house legal department to handle them, the NHS Litigation Authority.
The majority of clients we represent are those who are claiming NHS compensation for negligence. It is a field that lawyers at The Medical Negligence Experts have a particular set of skills in. Subsequently, we have an excellent track record in obtaining successful claims against the NHS.
You must meet the following criteria to earn consideration for your claim.
Firstly, the doctor or caregiver acted in a way that falls below an acceptable professional standard.
They determine this by looking at your experience. In turn, specialists analyse whether the actions taken retain support by a reasonable body of clinical opinion. This test is the Bolam principle. This principle effectively verifies whether your care provider
"acts in accordance with a practice that is proper by a responsible body of medical men who know that particular art."
Secondly, your injury/illness must directly link with the failure of your health professional to uphold their duty of care.
Basically, this determines whether you were likely to receive an injury even if the health professional acts correctly. If not, then claims against the NHS for negligence are unlikely to be successful.
An example of this second point relates to an example claim of delayed diagnosis. In this case, a patient makes a compensation claim against a GP. Effectively, the GP didn't refer them for tests even though he was showing obvious symptoms of early prostate cancer. While the doctor admits their mistake, they contend that the patient's cancer would still progress regardless of the negligence.
The patient's lawyers then obtain independent medical evidence. Evidence supports his belief that cancer treatment wouldn't be invasive and debilitating if they diagnose cancer sooner. As a result, the patient wins a five-figure settlement. The monies recognise compensation for
Firstly, the pain resulting from the more aggressive treatment, and;
Loss of earnings due to him requiring additional time away from work.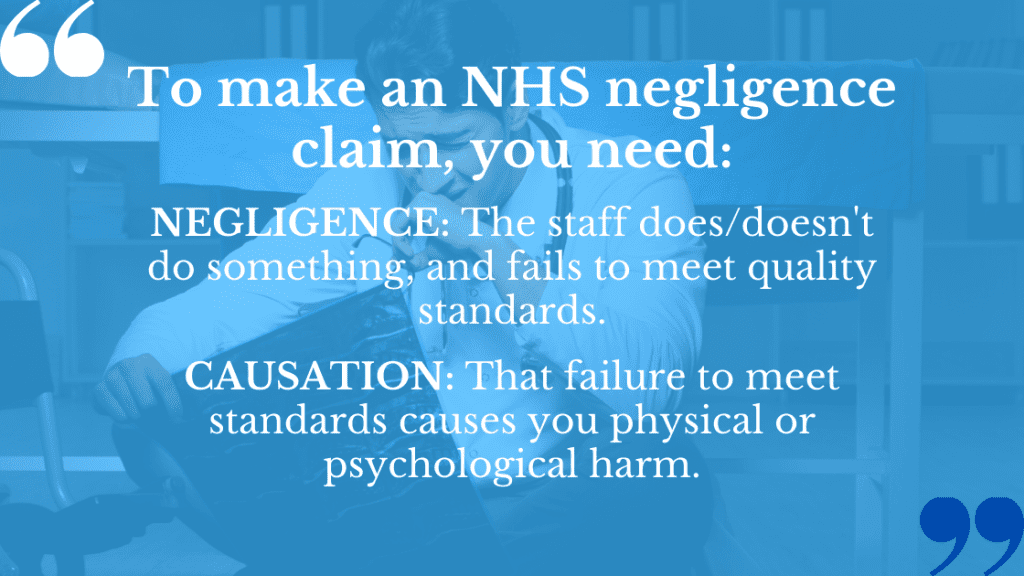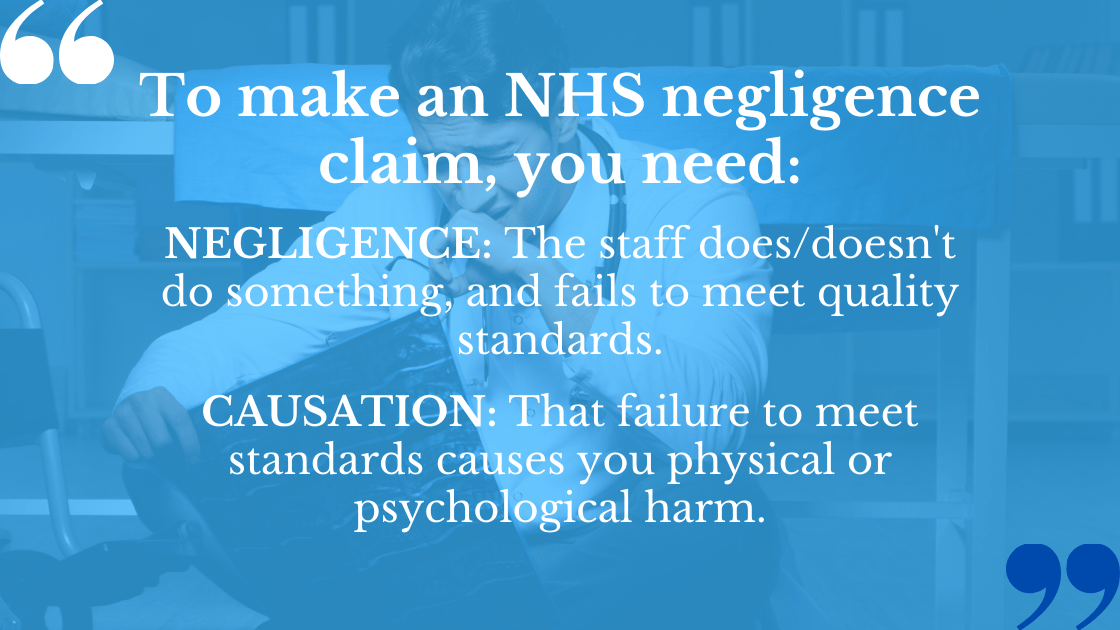 How do I know if I have an NHS negligence claim?
The NHS complaints procedure aims to give you an explanation, though not necessarily financial compensation. So if you suffer actual harm in an NHS hospital, you can make claims against the NHS in order to receive compensation for your injuries.
You can make an NHS negligence claim if:
NEGLIGENCE: The staff did something or failed to do something, that didn't meet quality standards.
CAUSATION: The mistake causes you physical or psychological harm.
The term "harm" has a broad definition. It arises whenever a clinician causes you a direct physical injury. For example, by leaving surgical instruments inside your body. It also arises whenever the clinician's errors worsen your illness or condition.
Common duty breaches that cause harm to NHS patients include:
Surgical errors;
Failure to diagnose critical conditions such as strokes, heart attacks, and brain haemorrhage;
Falling victim to anaesthetic errors;
Prescribing or administering the wrong medicine or the wrong dosage;
Dealing with or causing infections, such as MRSA;
The development of malnourishment or dehydration;
Failure to warn of the risks of treatment, and;
Lab mistakes, such as delayed, false or missing test results that can delay a course of treatment;
Misdiagnosis or failure to treat;
Negligent delay in treatment;
Failure to monitor oxygen or fluid levels, and;
Negligent personal care which can lead to wound infections or pressure sores.
What can you do if you think the NHS is not meeting the required standard?
If you experience substandard care and medical negligence NHS, then you have various options open to you. The first step, therefore, is to tell the management of the hospital. Often, it is enough that the patient receives an apology and an assurance that other patients aren't subject to the same poor treatment.
If your concerns don't get immediate resolution, you can go through the formal NHS complaints process. Under the NHS constitution, all patients have the right to make a complaint, seek compensation from NHS, and to then have it thoroughly investigated. Your solicitor can guide you through the formal complaints procedures; details are available at NHS choices.
If you are not satisfied with the way your complaint is being handled, you can take it to the Parliamentary and Health Service Ombudsman.
You don't have to use the official complaints procedure before starting a legal claim, but it is usually wise to do so. Lodging an official complaint forces the relevant NHS Trust to clarify the circumstances surrounding your treatment and establish whether there is any liability. This information can help your solicitor decide whether it would be in your best interests to pursue a legal claim.
Differentiating NHS Complaints and NHS Compensation
Our clients pursue compensation from NHS not only because they deserve to have their expenses caused by negligence covered but to also have their injury recognised and acknowledged – by those responsible.
The NHS Litigation Authority handles claims made against the NHS for negligent care. As such, we are very familiar with their processes. In fact, the NHS estimates 98% of claims end with a settlement out of court. Ergo, that means you're highly unlikely to have the stress of a court case.
If you feel you have received inadequate treatment but there are no grounds to claim. We'll be able to advise on making a formal complaint and then decide whether you have grounds for suing the NHS for medical negligence or not.
The NHS has an extremely well-defined and robust system for patients who want to complain about their poor standard of care. Raising a complaint is different from raising claims against the NHS. Every NHS organisation has to have a clearly defined complaints procedure. You can obtain a copy of this by asking them for it in person, over the phone or by email.
Some NHS trusts also have their policy published on their website.
The official Guide to NHS Negligence Claims Guide to an NHS Complaint
You can make an NHS complaint in writing or as a verbal expression to the trust. Additionally:
If you do not feel comfortable doing this directly, you can submit your complaint to the NHS commissioning body.
Must occur within 12 months of the date of the event, or 12 months of the date you became aware of it.
It does not give you any compensation.
Can provide you with answers and information that will help support a claim for damages.
You do not need a lawyer to make a complaint. If you are unsure about what to do or how to proceed, or you want independent support, get in touch with:
Citizens Advice Bureau;
Patient Advice and Liaison Services (PALS) or;
Independent Health Advocacy Service.
The official Guide to NHS Negligence Claims Guide to an NHS Compensation Claim
An NHS compensation claim:
Needs to prove you received a substandard of care and that this directly led to your injury.
Has the support of a specialist medical negligence solicitor.

That solicitor can help you gather evidence and create a strong claim.

Must happen within three years of the date of the negligence.
Will award you a payment of money, if successful.
Will not include an apology.
Doesn't come with an assurance that the Trust will take actions to prevent your experience happening to someone else.
Is final: essentially, once you accept the payment, you don't pursue further action or compensation. That's the case even if it turns out that your injury ends up being even worse than initially thought.
What is the process for making NHS negligence claims?
Medical negligence claims against the NHS are difficult ones to prove. As such, you will need expert advice to work out whether you have a case. So, if you are thinking about claiming compensation from NHS, the first step is to appoint a solicitor who specialises in clinical negligence cases.
The solicitor will look at your case to decide if it is strong enough for them to take it on. You will need to give your solicitor as much information as possible. It will help if you keep a written record of the treatment you received, the complaints you made, and any paperwork associated with your hospital stay.
The solicitor should be able to tell you if you have a means for making successful claims against the NHS and give you an idea of how much compensation you might receive.
How do you prove liability in NHS negligence claims?
The duty is on you, the patient, to prove negligence by the NHS led to your injury. Since your claims against the NHS concern treatment, the most significant evidence will be reports from medical professionals who have specialist knowledge in the relevant field of medicine or nursing care. Sometimes it is possible for one expert to deal with the various aspects of your injury. Often, different experts require two or more reports.
The reports help establish both negligence and causation. Once these investigations have been carried out, your solicitor will be able to advise you with much more certainty whether your claim is likely to be successful.
How much do NHS negligence claims payout?
The amount of compensation you receive for the pain and suffering associated with your injury depends on a variety of factors. These include:
The type and location of the injury;
The seriousness of the injury, for example, whether it will heal on its own or whether surgery is required;
The impact the injury has on your ability to work and your lifestyle;
Your age;
How long it will take you to recover;
Likely complications arising from your injury in the future.
The medical expert we appoint to your case will describe the nature and extent of your injuries. Additionally, they detail the prognosis for your recovery in a document called a "condition and prognosis report."
This report is a starting point for settlement negotiations.
On occasion, the medical expert may not be able to give a final prognosis and may recommend further treatment first. It is better to wait until the treatment ends before settling your compensation claims against the NHS. That's because they settle NHS negligence claims on a "full and final" basis. It is not possible to ask for more money if your injury turns out to be worse than expected, so you should always enter negotiations armed with all the medical facts.
In addition to "general damages" for pain and suffering, you may claim for the out-of-pocket expenses associated with the injury. This includes medical costs, travel costs, lost wages and overtime.
You will need to prove your financial losses, so it is important to keep receipts for any items purchased, taxi fares, wage slips and tax returns.
What if I have been injured by an NHS "Never Event?"
Around six patients a week are affected by so-called "Never Events." These are wholly preventable incidents that should not have happened if NHS staff had followed specific guidance or safety recommendations. The NHS regularly updates the Never Event list and currently includes areas like:
Wrong-site surgery where the surgery takes place on the wrong body part or even the wrong patient;
Retaining foreign bodies in the patient post-operation;
Failing to monitor oxygen levels;
Administering chemotherapy drugs via the wrong route, and;
Death from postpartum haemorrhage after an elective caesarean.
Customarily, the NHS would find it very difficult to defend a Never Event. Therefore, it's highly likely that the NHS trust would concede liability if you suffered such an incident.
However, even if they admit a breach of duty, you must still prove causation in order to be successful in suing the NHS for medical negligence. This is where the specialist knowledge of an expert medical negligence solicitor can assist.
NHS Claims FAQ
As part of our Guide to NHS Negligence Claims, we now answer some common questions you may have.
We are happy to give you a free, no-obligation conversation to answer any questions you may have about your entitlement to claim or the process for doing so. Here are the answers to some of the most frequently asked questions we receive. If the answer to your question isn't here just give us a call or fill in our online form and expert legal advisors from the law firms we work with can help.
Do I have the right to claim compensation against the NHS / sue the NHS?
If you endure an unacceptable standard of care and face injury as a result, you can claim compensation from NHS. Helping the claim is the existence of a legitimate injury as a result. Moreover, it's not sufficient to say you have an injury if you can't prove it it's from negligence.
Is there a time limit for suing the NHS?
An NHS claim must be live within three years of the event. By contrast, if you were under 18 at the time, it needs to occur by your 21st birthday.
Expert legal advice starts with an expert solicitor who sues the NHS for medical negligence at the earliest opportunity. Such is the case even if you are still physically recovering. We provide legal aid to help you access the rehabilitative support you need. Additionally, we can potentially secure an interim payment if the other party acknowledges liability, but:
your claim is taking a long time to process, and;
you need urgent financial support.
How long will suing the NHS take?
Processing time of your request hinges on whether the other party accepts responsibility. Additionally, the nature of the injury and healing time of your injury are factors. As a general rule, claims relating to certain conditions take longer than those with a quicker recovery. These include:
Life-changing injuries.
Injuries where it can take time to determine the long-term prognosis and lasting impact on the victim's life.
Who do I sue?
Since the medical care treatment comes from the NHS, you will be suing the trust responsible.
Accordingly, some parts of the lawsuit timeline have a legal definition. For example, defendants have four months to investigate and respond to your application for compensation, acknowledging or denying liability.
How much compensation will I receive?
As with processing time, your payment amount depends on the nature of your injury and the effect on your life. In summary, compensation falls into two designations.
One figure takes into account your pain and suffering. Likewise, The Judicial College sets out guidelines that receive regular updates.

Accordingly, these are the industry standard guidelines for determining payment amounts.

The other figure recognises expenses you incur as the result of your injury.*
Can I afford to make an NHS claim / sue the NHS?
Hiring a lawyer privately can be expensive. At The Medical Negligence Experts, we believe quality legal support should be accessible to everyone who needs it. All our solicitors can represent clients on a No Win No Fee* basis. This conditional fee agreement means that you do not have to pay any money upfront.
If your claim is successful, your legal fees will be paid by the other party.
Indeed, you will pay us a success fee (i.e. a percentage of your compensation agreed at the start). If your claims against the NHS are unsuccessful then you do not pay us a penny in legal costs. An insurance policy will pay the other party's legal fees.
A No Win No Fee* NHS claim means you can apply for NHS compensation without facing financial risk. Your lawyer will also fight for your success because payment depends on the outcome.
Will I have to go to court?
It is highly unlikely you will need to go to court. The vast majority of compensation claims against the NHS (98%) face out of court resolution. With another 1%, there's often no legitimate grounds to claim, leaving a slender 1% likelihood of going to court.
We appreciate the prospect of going to court can be stressful. We work hard to negotiate an out of court settlement on your behalf. We'll only advise litigation if the other party:
Refuses to accept responsibility, but;
We can still prove it, or;
If you can't reach agreement on a fair and reasonable compensation payment.
If your claim does go to court, we're with you to support and advise you on the best possible outcome.
What about the NHS Litigation Authority?
Dissatisfied patients not wishing to pursue a compensation claim can also approach the NHS Litigation Authority (NHSLA). This independent mediation service can help patients and clinicians resolve disputes fairly and help the NHS learn from their mistakes.
Using the NHSLA does not prevent you from making a claim if you are unhappy with the outcome.
How Can We Help?
To make successful claims against the NHS, you must demonstrate you suffered an injury. In turn, this injury was the direct result of negligent care provided by the NHS. Proving medical negligence NHS and damage is a long and complicated process. Consequently, where having experienced lawyers like The Medical Negligence Experts on your team will help.
In short, making claims against the NHS can be stressful and time-consuming. So it is important to get support from the right legal firm. Here at The Medical Negligence Experts, our solicitors only deal with claims against the medical profession. Trust us to give you the advice and support you need.
Fill in our contact form today and let us assist you in winning your NHS compensation.
*Expenses that you would otherwise not have had to pay had you not been hurt.