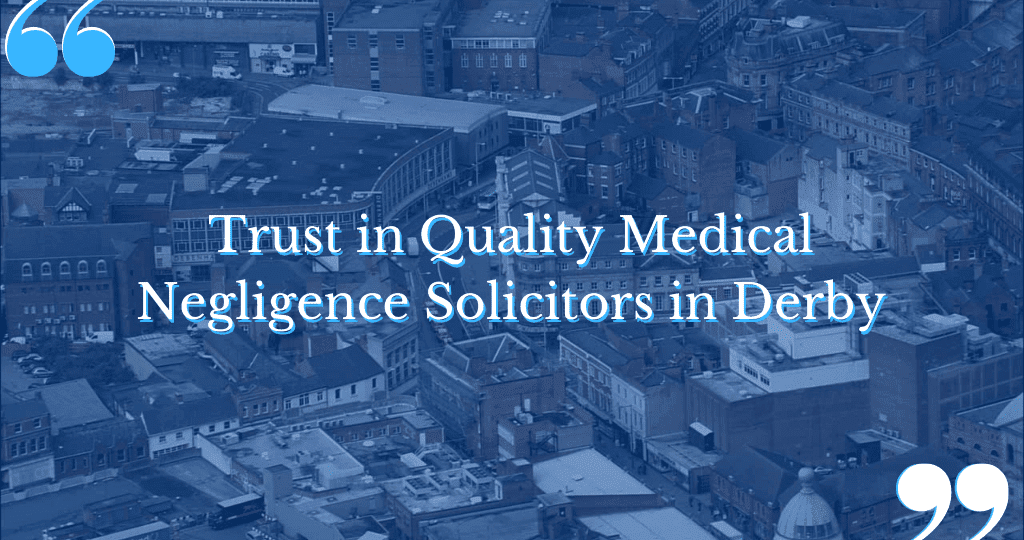 Expert Medical Negligence Solicitors In Derby
We specialise in helping victims of clinical negligence claim the compensation they deserve
Start your claim
Find out how much your claim could be worth now…
Access to Medical Negligence Solicitors in Derby
If you suffer an injury or illness due to a medical professional's mistake, then talk to us. We work with medical negligence solicitors in Derby with years of experience in the medical injury claim field. As such, they help people just like you to obtain compensation for their injury from medical accidents. Moreover, we provide such legal aid and negligence lawyers on a No win, No Fee basis, too.
You need answers and justice for an injury you sustain through no fault of your own. That's why you can rely on The Medical Negligence Experts for top-quality legal advice and support. We are your champion, fighting to protect your rights and securing the compensation you deserve.
The Medical Negligence Experts provide quality of legal support plus a consistently high standard of customer satisfaction. Our clients rely on us to do our best to get maximum compensation.
We keep them up to date on the progress of their claim and;

Conduct ourselves with respect and consideration to what may be a sensitive situation.
At The Medical Negligence Experts, clients are people and not faceless claims we have to process and file.
Talk to us today and arrange a free consultation with an expert legal advisor. This is a great opportunity for you to ask any questions you have about claiming compensation for medical negligence, and there is no obligation for you to proceed with an application if you decide not to.
Your successful compensation claim starts when you call The Medical Negligence Experts. We will talk to you about the circumstances around your injury to determine whether you have grounds to apply for compensation.
For your claim to be legally valid (and to win your case), you need to prove two things.
First, you need to prove that you did suffer an injury or illness (damage).

Second, this was a direct result of negligent medical care (causation).
Proving negligence is difficult, so we always recommend you work with a capable medical negligence team. We can find for you a competent solicitor specialising in any of a wide range of medical negligence claims, for instance. This will suit your case better than a general personal injury lawyer lacking specialist experience.
One typically proves negligence by comparing the level of care you receive from your practitioner with that from their peers. We scrutinise their actions to see if they are normal in the industry. Moreover, if others in their profession would do the same. If not, we clarify if those actions fall below an acceptable standard.
Risk versus Medical Negligence
There is a risk to every treatment:
prescriptions for painkillers;

having open-heart surgery.
Additionally, the outcome may not always be as you hope. Negligence happens when the management of risks is lacking, leading to avoidable mistakes.
Your lawyer will write to the other party to inform them of your intention. Subsequently, they'll pull together all the evidence needed to support your request. We'll submit this evidence to the defendant's legal team who then have four months to respond.
The best-case scenario is that they accept your claim and agree to pay a fair amount of compensation. What generally happens is that some negotiation takes place. Either to determine the degree of responsibility or the amount of your payment.
In extreme instances, the other party may refuse to admit liability or pay you an appropriate amount of damages. In these cases, we may recommend you submit your claim to court. Accordingly, a judge will assess the evidence and make a final and binding decision.
Common Types of Medical Negligence Claims in Derby
Our solicitors in Derby can help whether you are claiming against the NHS or private practice. Moreover, whether your treatment was elective or essential. You should never endure financial penalty simply because of someone else's mistake.
We handle many different types of claims including:
One of the most common types of clinical negligence claims in the UK is for misdiagnosis. Medical misdiagnosis can either happen when symptoms are mistaken for another cause and the wrong treatment is given, or when a condition remains undiagnosed.
The Medical Negligence Experts has successfully represented clients who have suffered medical misdiagnosis, including cancer misdiagnosis. If you suspect you may have been a victim, then talk to us today, and we'll get to the bottom of a number of questions.
First, did your GP dismiss your concerns as warrantless?

In addition, did they say they would refer you to a specialist only to forget to make the referral?

Did your doctor or healthcare professional misinterpret the results of diagnostic tests? 

Did someone without qualifications to do so take part in your care? 

Is it possible that a machine is involved that doesn't receive regular service and correct maintenance?
Any of these instances could cause a misdiagnosis of your condition, leaving you with a potentially life-threatening condition.
No one should have to forgo their legal rights because they can't afford to pay for a solicitor privately which is why we offer No Win No Fee* medical negligence claims in Derby. A No Win No Fee* claim takes away the need for you to pay anything upfront and removes the financial risk involved with making an unsuccessful claim.
No Win No Fee* agreements, sometimes referred to as Conditional Fee Agreements, work in conjunction with legal insurance. Some clients, in fact, already have coverage as part of either vehicle or home and contents insurance policies. 
But we can help you organise an After the Event (ATE) insurance policy if you don't have one now. You'll only have to pay the premium if you lose your claim; moreover, to pay the other party's legal expenses.
We will talk to you about your funding options in our initial conversations. In short, you'll be able to make a sound choice before you commit to starting a claim.
If your claim succeeds,** the other party pays your legal costs, and you pay your solicitor a "success fee". We'll agree on this amount with you at the start of the process. Standard fees for successful claims are 25% of the compensation you receive.
There are no shocking financial traps or hidden expenses at the last minute, either. We're always upfront about the potential costs to make a claim.
Claiming Compensation for Another Person
It's possible to seek compensation for another person if they are unable to do so themselves. We often represent parents of children who suffer injury from negligent care like a birth injury. Plus, clients whose ageing parents suffer harm through care home negligence. 
People who raise claims on behalf of someone else are "litigation friends". They can be close friends, relatives, accountants or lawyers.
Becoming a litigation friend is quite straightforward. You submit a form to a court which states that you have no conflicting interests and will act with the victim's best interests at heart. A court will rule whether or not you are suitable and we then deal directly with you.
There is little difference between making a claim as a victim of medical negligence and requesting compensation as a litigation friend. The main disparity is that a judge must approve the compensation for claims brought by litigation friends. In addition, it must satisfy the court that the money receives appropriate handling and management.
Medical Negligence Case FAQs
We know that you probably have a lot of questions about medical negligence claims. Our legal experts assist by offering a free consultation where you can ask them directly about your situation. We have provided answers to some of the most common questions we hear from clients when they first contact us.
Id we don't address your question(s) here, please call using our free phone number so that we can help.
Can I make a claim with medical negligence solicitors in Derby?
In most cases, you will have grounds to request compensation for an injury from medical negligence. But, only if the medical professional looking after you:
fails in their duty of care and;

you suffer injury or illness as a result.
Both damage and causation need to be a factor for your request to be valid.
How much compensation will I receive through medical negligence solicitors in Derby?
The amount of compensation you will receive will depend on the type of injury you have sustained, how it has affected your life, and whether your injury has caused you to spend or lose money. General damages come in recognition of pain and suffering. Meanwhile, special damages happen in response to any expense you incur.
It pays to talk seek legal advice at the earliest opportunity. We can let you know whether an expense may be part of your compensation claim. Such costs can be paying privately for further medical treatment to help you recover from your injury, transport to and from your doctor or hospital appointments, and if you have to pay someone to help you at home because you have lost some mobility.
Special damages can also factor in predicted expense or financial loss. A good example of this is if your injury is life-changing and you will need nursing assistance for the foreseeable future, or if being unable to work in the same capacity means you have to retire and lose earnings and pension you would have had if you had not been injured.
How long will my claim take?
Because the task of proving negligence can be challenging, compensation claims for medical negligence take longer than those for personal injury. You should expect your claim to take around 12-18 months if you are able to recover completely from your injury.
It's not unusual for victims suffering long-term damage or life-altering injuries to take several years. However, if the other party accepts responsibility, we can take immediate steps. For one, we'll ask for interim compensation payment to make sure you do not suffer financially.
There is a statutory time limit of three years that applies to nearly all medical negligence claims. This time starts:
from the moment of your injury or;

when you realise negligence causes your injury to when you submit it to a court.
The exceptions to this time limit are claims for those:
who were under 18 at the time of their injury, or;

people with mental incapacitation that can't legally manage their finances.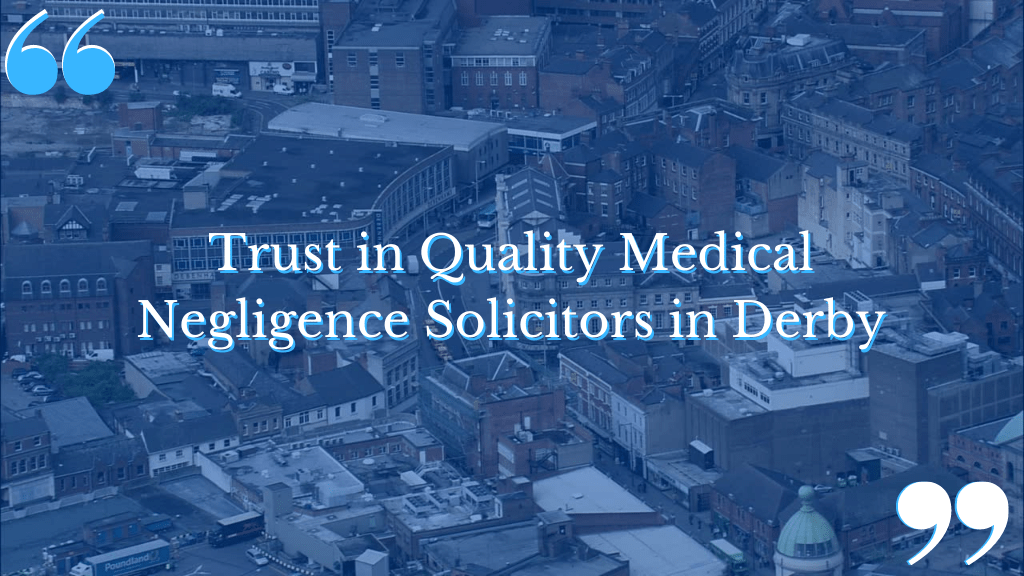 Will I have to go to court?
The majority of claims we handle settle out of court. Therefore, it's unlikely you will have to go to court unless you are acting as a litigation friend. Although we do our best to resolve claims without litigation, we won't jeopardise your right to maximum compensation.
Perhaps the other party doesn't accept negligence or won't agree to pay you an appropriate amount. Accordingly, we may recommend you submit your claim to a court. You may have to wait up to a year to have your request heard by a judge. 
So we'll continue to negotiate on your behalf during this time. As a result, the goal is to achieve an acceptable settlement out of court.
Work with us
Compensation is not about money alone. It's about making sure you have the resources you need to recover from the damage. In addition, we don't want you to struggle with overcoming an injury you didn't deserve to suffer.
The past is the past: we do our best to give you a bright future. So contact us today and find out how The Medical Negligence Experts can help.
*Please note that with medical negligence solicitors in Derby, conditions apply.
**We'll only recommend you proceed if we believe there is a good chance that the claim will succeed.